TREE LIFE
October 2015
MASHONALAND CALENDAR
Saturday October 3rd: Botanic Garden Walk. Meet in the Car Park at 0845 hours for 9000 hour start. We will walk for about 1.5 hours and although it might be hot there is much of interest to see.
Sunday 18th October : Return visit to Canon Kopje in Mtoroshanga, by kind invitation of Alex Hangartner.
Canon Kopje Farm has a lot of interesting vegetation and I am sure we have not explored the half of it yet. It is also a lovely venue for a day in the country. For those interested in sharing vehicles, we will meet at Prince Edward School Car Park at 0730 for a prompt 0745 departure. Those who wish to travel directly are welcome to do so.
Saturday 24th October : Visit to Rob Jarvis' Hillside property. Rob has an interesting collection of plants and I am sure there will be much for us to see and learn. We will meet there at 1430 hours.
VISIT TO NEW YEAR'S GIFT, PART OF THE TANGANDA ESTATE, CHIPINGE.  6TH TO 10TH NOVEMBER, 2015
There are only a very limited number of places available at the Training Centre on New Year's Gift where we will be accommodated (18), so it will be on a first come first served basis, and your money will secure your place.
The accommodation is in rondavels with two beds in each and each with its own ablutions. Linen is supplied but we need to take towels.
The cost per person/per night will be $45 which is $180 per person for the four nights we will be there – this will include dinner, bed and breakfast. We will take our own lunches as we will be out during the day. If needed, there is fridge and deep freeze space in the kitchens for our lunch.
The general plan is that we will arrive on Friday 6th during the afternoon and settle in. On Saturday we will explore around New Year's Gift and I am assured there is much to see. On Sunday we will travel to Chirinda Forest and spend the morning there. We then have an invitation to visit Zona Estate which is beyond the Big Tree Forest and I am told is the most beautiful of the tea estates, from which they get some of the finest tea in the world. Monday will be spent where-ever the leaders of the group think will be the most interesting place to explore and botanise. We will return to Harare on Tuesday.
BEFORE depositing your money to secure your place, please phone me on 0772 261621 (Mary) to see if there are still available places. To then secure your place please deposit THE FULL AMOUNT into the Tree Society CABS Account, details are as follows:
Account name: W.R.Clarke – Tree Society. Acc. No: 1002549477. Please then notify Bill Clarke that you have deposited the money and he will notify me.
– Mary Lovemore
Invitation from the Nyanga Downs Fly Fishing Club (NDFFC) to use their cottages on the Gairezi River, Nyanga – an email was received by the committee who discussed and decided to accept it. If you would like to take up the offer, please contact Tony Alegria to obtain a Tree Society Membership Card.
From Clive Moore-Gordon: I have been tasked with increasing the occupancy at the NDFFC. As you may know, these cottages form part of a CAMPFIRE project in conjunction with the local community. The river is well stocked and very scenic, with fishing only available to members (there is however a stretch of water that is open to the general public provided a permit is purchased from the NDFFC Offices). There are wonderful walks along the river, with plenty of indigenous riverine bush and some fantastic birding.
Our aim is to generate year round occupancy, and thus create a more sustainable initiative to the local community members involved in the up keep of the paths, controlling the poaching, and maintaining the cottages.
There are two self-catering cottages, each with 4 beds. They comprise 2 bedrooms, a kitchen, a lounge and a verandah deck. The kitchens are fully equipped with a gas stove and a gas fridge. They also have a solar shower, and solar lights. The cottages are serviced daily and firewood is provided at a nominal charge.
We have identified two periods where membership occupancy is low due to the nature of fishing: (1) 1st January to 31st March; and (2) 15th June to 31st July. We would like to make these booking times available to members of the Tree Society, who share our love of Nyanga and the general outdoors, and would likewise practise the conservation of this pristine environment.
The booking details are as follows:
Bookings should be made four weeks in advance. This does not preclude securing bookings at short notice provided the dates fall within the identified periods and if the cottages are free.
Booking is done through NDFFC Offices at 4 Mount Road, Avondale, Harare (Contact persons Fey or Margie – e-mail address: sales@dpz.co.zw or phone 04 334708). Members need to show a Tree Society membership card. The fee for the cottage on proof of membership is $60 per night per cottage.
The normal once-off entrance fee to the public ($5 per car and $5 per person) will be waived for those staying in the cottages, the fee is only applicable to people coming for the day or camping. There are camping facilities a short walk from the cottages. These have a gazebo, solar showers and ablutions and cost $5 per person per night.
– Tony Alegria
TREE OF THE MONTH  Terminalia stenostachya
Family: – Combretaceae – Common names: Rosette Terminalia; Nd: Umangwe omkulu;
Sh: Mukononomukadzi.
For once the etymology is easy and logical, all Terminalia have their leaves in terminal rosettes or clusters (with the exception of Terminalia mollis). The specific name stenostachya is formed from two Greek words: steno which means "narrow" and stachya which means "spike". In botany a spike is an inflorescence with stalkless flowers arranged on elongated unbranched axis. I like this way of naming, it is certainly more descriptive than "schweinfurthii" for example.
In Zimbabwe we have a total of thirty-one Combretaceae of which 10 are Terminalia. T. stenostachya is of medium size, it can be as little as 3m in more adverse conditions but 10m and more in better conditions. It is nevertheless absent from Kalahari sand.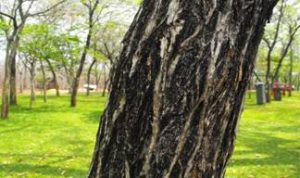 The bark of T. stenostachya is fairly distinctive with its deep vertical furrows; the leaf stems are equally distinctive with leaf-scars looking like little craters.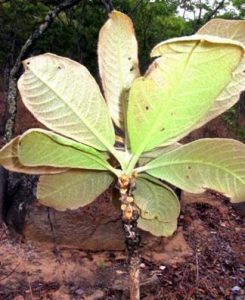 The leaves of T. stenostachya follow the general Terminalia morphology and grow in rosettes at the ends of the branches. They are obovate, dark green above, lighter below where the 12 or so lateral veins are prominent.
Leaf size is fairly variable, more or less 15cm long and 6cm wide.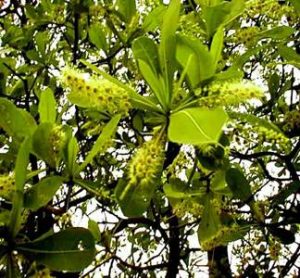 The flowers are stalkless and grow on narrow axillary spikes. They are pretty and delicate but, like most others in the genus, unpleasantly scented. The fruit is a pod some 5 by 3 cm, bright red and striking when mature, the single seed being set in the centre, somewhat like Pterocarpus.
Interestingly this tree has no recorded use as an aphrodisiac, maybe due to the unpleasant smell of the flowers. A root infusion taken by mouth is nevertheless taken by the AmaNdebele against epilepsy and as an antidote for poison.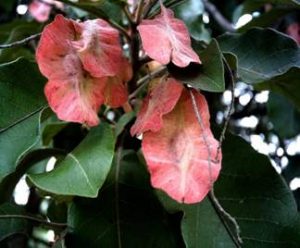 Due to its scarcity and a bole rarely exceeding 250 mm the wood has little commercial value. The wood is resistant to borer attacks and very hard, it is not easily worked with hand tools but, given metalwork tools, is a fine wood for turnery.
Sources:
Coates Palgrave, K. 1977. Trees of Southern Africa . Struik, Cape Town.
Gelfand, M. et.al. 1985. The Traditional Medical Practitioner in ZImbabwe. Mambo Press, Harare.
Goldsmith, B. and Carter, D.T. 1992. The Indigenous Timbers of Zimbabwe. Forestry Commission, Harare.
Van Wyk, B. and Van Wyk, P. 1997. Field Guide to the Trees of Southern Africa . Struik, Cape Town.
Photographs: JP Felu.
– JP Felu
The Fig Family, MORACEAE
One of the features of the family Moraceae (pronounced More-ay-see) is the milky sap. This sap is a feeding deterrent, stopping herbivores from eating the plant. When the fruit is young and unripe, the milky sap is visible but when the fruit is ripe the sap is no longer there. This stops animals from eating unripe fruit when the mating of the wasps inside has not taken place and when the fig seeds have not fully developed.
Another feeding deterrent found in figs, as well as many unspecialised families, is tannin. When the leaves are undisturbed, tannin is stored in special structures within the leaves. When the leaves are chewed, these structures are destroyed, releasing the tannin which locks onto the protein of the leaves and reduces the nutritive value of the plant. This means that even after eating many fig leaves, an animal will still be hungry. The animal soon learns to associate this hunger with fig leaves and learns to avoid them. Tannin also binds to enzymes and other proteins, thus reducing the efficiency of digestion. Some scientists in South Africa reported that the intestines of browsers feeding on both figs and Burkea africana (Wild Seringa which also contains tannin) were beginning to look like leather because of the tannin. Tannin is an astringent which causes the puckering of the tongue – this astringency is a repellent to many animals, insects and birds. It is on this astringency that people all over the world base their tea making recipes, as well as using tea to soothe and refresh tired eyes.
Another feeding deterrent that fig leaves have is cystoliths – small, translucent calcium stones. In addition, some leaves are rough e.g. Ficus capreifolia, or leathery as in the Strangler Fig F. scassellati, and this also deters animals from feeding on the leaves.
Besides protecting themselves against browsing, figs also protect themselves from disease. The ability of plants to protect themselves is one of the features that enables them to be successful. Most plant diseases are bacterial or fungal in origin (yeasts, mushrooms and their relatives) and figs have evolved fungicides (the equivalent to our antibiotics) to kill both bacteria and fungi that their tissues. Ficus scassellati produces a fluid in its syconia – the inflorescences that form the figs – which is a fungicide. The milky sap also kills some bacteria and, like most trees, the bark provides some protection.
The figs found in the National Botanical Gardens in Harare include Ficus fischeri (occurring in Zambia and in one place near Chirinda Forest) which is not three veined from the base. There are several other figs which are not three-veined from the base, for example Ficus scassellati, a Strangler Fig occurring in the Bunga Forest in the Vumba; and Ficus craterostoma, very close in the Gardens to F. natalensis, which keeps its stipules for much longer than other figs.
Ficus stuhlmannii, typical of the northern Middleveld, has very small leaves and an unusual black stem with white spots – figs usually have light stems. This fig occurs naturally in Raffingora and Chegutu. Ficus abutilifolia has one of the largest round leaves and the specimen in the Gardens is associated with lichens. Ficus capreifolia, which does not occur on the Highveld, lays down lateral branches before growing up. Depending on whether or not you pick the 'right' branch this fig can be mis-classified as Rubiaceae (pronounced Rube-i-ay-see), a family with opposite leaves and interpetiolar stipules, unlike the figs which have alternate leaves.
Ficus burkei (pronounced burk-ee-eye) is a high rainforest fig whose adventitious roots grow down from the branches. Ficus lutea (loo-tee-uh), a fig with five veins from the base of the leaf that is found from Chipinge to Chirinda, has fruit at the end of the branches, while Ficus sur, the Broom Cluster fig, has fruit in large, heavy clusters along the branches and trunk. Ficus exasperata (Tom Muller's toilet paper tree) occurs in the Vumba and Burma Valley. Its leaves are rough (sandpaperish) and tough. The sap is not milky but clear, it is three veined from the base and the fruit is borne at the ends of the branches.
Ficus bubu has roots close to the surface. Those who went to Catapu with Meg will remember the large Ficus bubu on the road in the Inhamitanga Forest. The tree in the Botanical Gardens has never had viable seeds. The reason could be that the right pollinating wasp is not found in the Gardens or that it is one of two gynodioecious figs – i.e. a fig that produces some trees with only female flowers as well as trees with hermaphrodite flowers and that this tree is only has only female flowers with no male flowers to pollinate them.
Ficus vallis-choudae (choo-dee) is a very rare fig with only 12 – 15 plants existing in the Haroni-Rusitu Valley in Zimbabwe. This fig in the Gardens looks unhealthy in winter, presumably because of the cold in Harare, but bears very big soft fruit.
– Fran Mutapi (with additions from Ed)
OUTING TO HILDEMARA  SUNDAY 16th AUGUST 2015
The story of fig pollination is one which when told correctly is a vivid drama and an ecological marvel. Flying on natural spontaneity and deepest knowledge Meg Coates-Palgrave injected all her passion and powers into the telling of this tale.
Under the shade of a fruiting Ficus (that I mistook for F. abutilifolia but Meg put me right by distinguishing F. abutilifolia from F. salicifolia by its flat leaves, similar to Ficus ingens), I learnt of the near invisible and arcane manoeuvrings of the wasp's life cycle that produces the singular kind of fruit that is the fig. Straying from purely botanical explanations Meg's story is set up as a mystical cycle weaving insect, animal, bird, human and of course, plant worlds together. To listen to Meg's story in the slow dry heat of the winter's day: the world is contained right there, in the fleshy chamber of an indigenous fig.
Unusual treasures revealed to us in Meg's group that morning included an Ochna, Psydrax livida, and a Mimusops that initially was confused for a Ficus. Among the group, some already knew it as Mimusops, but for the neophytes Meg's clear scientific explanations of leaf structure relating to botanical family Sapotaceae made the identification surer in future.
The Euphorbia family was to the fore with sightings of E. griseola and the Three-forked Euphorbia, E. matabelensis – one of Meg's favourite garden plants for it's beautiful branching pattern and thrice forking stems.
Also a highlight that caused must excited debate was Englerophytum magalismontanum, the Stemfruit. I am familiar with the Magaliesberg variety but this one, in the shade, had longer bigger leaves and less variants of colour in its leaves. Tony and Meg set about identifying it in Meg's dichotomous key. Indeed, thanks to this sighting, this key in future will be fine-tuned to give even more readily the correct identification.
Thanks go to the Society, the Passaportis family and to Tony for this unforgettable trip. The simple pleasure of being with others for whom the greatest pleasure possible is to wonder at the names of trees passing by the car windows and to spend a day in a place full of more magic and marvellous trees is a rich enough reward! Lunch at the dam only begs the question of when will we be back here and can we stay a little longer? Next time…..
– Genaro Pereira
Reciprocity between National Trust of Zimbabwe and Tree Society of Zimbabwe.
Your committee has agreed to have reciprocity with the National Trust of Zimbabwe after we were approached by their committee. We agreed that:
• We will send them our newsletters / notifications and they will circulate them to their members.
• They will send us their newsletters /notifications and we will circulate them to our members.
• We will make membership cards and we will issue them to our members who wish to use their facilities.
• The National Trust facilities will be emailed to our members.
• Through our Tree Life newsletter National Trust members will be aware and welcome to join us in any of our outings / functions.
• Our members can attend National Trust functions.
• We will label trees at National Trust sites with a number and give them a tree listing so the number can be checked.
– Tony Alegria
TONY ALEGRIA  CHAIRMAN