TREE LIFE
NOVEMBER 2015
MASHONALAND CALENDAR
Saturday 7th November: There will be no first Saturday Botanic Garden walk this month because all the leaders will be away.
Sunday 15th November: Harare Botanic Gardens. Tom Muller is back from his annual leave so we are returning to the interesting area at the top of the Botanic Gardens behind the herbarium. This area is full of Acacias and Figs as well as the Combretum woodland and we will try to name the trees that stumped us last time. We will meet in the car park at 10am. It is likely to be hot, so bring something to drink and if you would like to stay for a picnic afterwards, bring the usual chairs.
Saturday 28th November : Visit to Father Ross' garden at St Georges School, by kind permission of the headmaster, Kevin Atkinson. These gardens were lovingly created by Father Ross and his colleagues for the boys, staff and parents. We will meet at St Georges College car park – in front of the hostel – at 1415 hours for a 1430 start.
TREE OF THE MONTH: There will be no more Tree of the Month articles for the present. The committee would like to thank JP Felu for compiling all the Tree of the Month series to date and wish him and Vicky well in their return to Bulawayo. From this month we will have a new series compiled by Bilal Khatri – Ed.
PLANTED TREES OF HARARE  Tipuana tipu
Tipuana tipu, also known as Rosewood, Yellow Jacaranda, Pride of Bolivia, or simply Tipu Tree, comes from South America. It is the only member of the genus Tipuana. And aside from being fun to say, (pronounced "tip-poo-ah-nuh TEE-poo") is highly valued as a shade tree and has for this reason been carried by humans to sub-tropical regions around the world. It is found on many streets in Harare, most notably Roland Square in Milton Park and Falmouth Rd, between the end of Sandringham Drive and Churchill Ave. It is relatively fast-growing compared to indigenous trees and becomes quite large over time. Older specimens can eventually reach 50 feet tall with an equal spread.
The leaves are pinnately compound, 25cm long and made up of leaflets two to seven centimetres long. The tree canopy is open enough to let dappled sunlight through to the ground and because the tree is semi-deciduous and will let in more light in the winter time. In some countries, the leaves provide forage for livestock.
The yellow blooms appear in abundance in spring and continue sporadically throughout the warm months. The profuse flowering turns the ground yellow with fallen blossoms underneath the tree. They have a sweet fragrance provided you put your nose right into the blossom, but just make sure there isn't a busy bee there as well, they love the blooms!
Seeds are a winged pod facilitating wind dispersal. This is the only genus among the legumes to have winged seeds, which are produced en masse, most of which succeed in germinating.
The tree can withstand a wide range of growing conditions – from -4oC to salty soils to drought. The timber is whitish in colour, strong and fibrous. The cut logs ooze a resin which is blood red giving one of its common names 'Rosewood'.
Tipuana tipu is viewed as an invasive weed in some countries and should be in Zimbabwe too, it is known for having a very aggressive root system that can easily lift up concrete and asphalt. Precautions should be taken when planting near buildings, homes, or pools, as they are likely to be damaged. Damage may sometimes be averted by trenching near the structure to a depth of about 1m and filling the trench with building rubble or lining the trench with thick plastic sheeting or corrugated roofing sheets. This task will have to be done frequently, as the hungry roots will eventually penetrate.
The trees have a rather gangly growth habit when young, so some pruning to shape may be required. Tipuana tipu are drought-tolerant once established and the tree is able to fix atmospheric nitrogen, so little fertilisation is required. However, it would be highly recommended, if you are looking for a large shade tree, to find an indigenous substitute as this tree could threaten biodiversity and cause other environmental damage. Although only in the early stages of establishment in this country, the species having been here for approximately 60 to 80 years or perhaps longer, the tree has the potential to seriously degrade Zimbabwe's fragile ecosystems.
Source:
Wikipedia: https://en.wikipedia.org/wiki/Tipuana
– Bilal Khatri
OUTING TO CALDERWOOD PARK, PETERHOUSE SUNDAY 20 SEPTEMBER 2015
This was an outing to a new place for the Tree Society. Calderwood Park, adjacent to Peterhouse School, lies to the South of the main Harare to Mutare Road. In many ways, the vegetation is similar to the nearby Gosho Park, the school's conservation area, which the Society has visited a number of times recently and broadly consists of miombo woodland, often rocky, at quite a high altitude of 1610 m.
At this time of the year, the various components of miombo woodland (msasa and mnondo) were coming into fresh, green leaf; there was a feel of new growth and Spring in the air. On this occasion, we had a good turnout of members. From the Marondera area we had Penny Raynor and Peter Jackson. We also welcomed back to Zimbabwe Bart Wursten returning from Belgium for a visit.
From the area where we parked the cars, we walked through the woodland towards a dam. In the woodland we saw Protea welwitschii (the Cluster-head Protea) and Pittosporum viridiflorum (Cheesewood). On the trunks of trees, we saw two epiphytic orchids, Cyrtorchis praetermissa and Tridactyle tridentata.
Down near the dam was a somewhat weedy area with the highly invasive Crofton weed (Ageratina adenophora) present. This is a white-flowered composite, which flowers in September (and was duly flowering on this occasion) which is spreading aggressively in the higher and wetter areas of Zimbabwe. I recommend that an effort be made to remove this plant, if it is still possible.
Also at the same spot was Pinus patula. This is the species so abundantly planted and naturalised in the Nyanga area. This is not so invasive outside the Eastern districts but occasionally, as here, self-sown plants do occur.
We crossed the dam wall, temporarily "going treeless". On the other side we found ourselves in some nice rocky woodland, Here was Brachystegia glaucescens, the Mountain Acacia and a beautiful Senna singueana (Winter-flowering Senna) in full flower. Patches of the Ivory carpet (Leptactina benguelensis) were to be seen in the woodland as also was the Hockey Sticks Indigofera, Indigofera rhynchocarpa.
Another species we commonly see in the Marondera area is Cussonia natalensis (the Rock Cabbage-tree) which has deeply 5-lobed, star-like, leaves which although deeply divided are not truly compound. This is noted for its bright yellow leaves in Autumn.
Amongst the rocks we came across Maytenus undata (the Koko Tree) and by folding and unfolding the leaves, obtained the characteristic pale waxy coloration along the fold.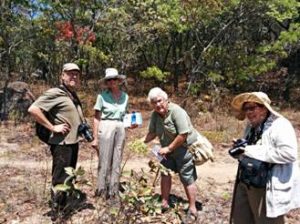 Just coming into flower was another plant often seen in the Marondera area, namely Sericanthe andongensis (the Venda Coffee). As the common name suggests, this belongs to the coffee family; it has opposite leaves and interpetiolar stipules and beautiful white flowers which have 6-8 lobes. Incidentally, the name 'andongensis' refers to an area of Angola called Pungo Andongo, where there are some extraordinary rock formations. An early plant collector, Friedrich Welwitsch collected plants in that area and many species names were first made from his collections.
Also just coming into flower was Turraea nilotica. This flowers early in the year when leafless. The flowers are pale yellow and have a tubular structure bearing the stamens.
Also present among the rocks were the small shrubs Myrsine africana (the Cape Myrtle) and Vernonia glaberrima. A second Cussonia, C. spicata, was also found. The latter is most common in the Eastern Highlands but it does also have a scattered distribution across the drier parts of the country, often in areas of locally higher rainfall.
After a convivial lunch, most people headed off, but a small group had a further walk. The most interesting find was the succulent-leaved shrub, Senecio barbertonicus (known as the Barberton Groundsel or the Succulent Bush Senecio). This occurs in rocky areas, often on sandy soils and is rather a local plant in Zimbabwe and something we do not often see. Its distribution is Zimbabwe, Mozambique, Swaziland and South Africa. The type specimen was collected in Barberton in Mpumalanga and this is commemorated in the specific name.
All in all this was a very pleasant day in enjoyable and stimulating company.
– Mark Hyde
TONY ALEGRIA CHAIRMAN