According to the book "sappi tree spotting  What's in a name? by Dr Hugh Glen", the name Albizia is named after Filippo degli Albizzi, who introduced a species of this genus to European horticulture in 1749. Apart from the Albizias which are indigenous to the Highveld that grow in the Harare area, there are many other Albizias,  most of which are indigenous to Zimbabwe also to be found as garden or street trees.  The trees indigenous to Harare are mainly found in woodland with Albizia antunesiana and Albizia amara being the two most common species. However the Albizia which is most commonly grown in Harare, as a street or garden tree, comes from the Eastern Highlands. This is the Albizia gummifera. Smooth-bark flat crown which has twice pinnate leaves with almost rectangular leaflets with the vein running from corner to corner. The flowers have red staminal tubes with the red stamens protruding from the top but there are also some white flowers without the staminal tube – these look pretty short with a mass of white stamens that can clearly be seen below.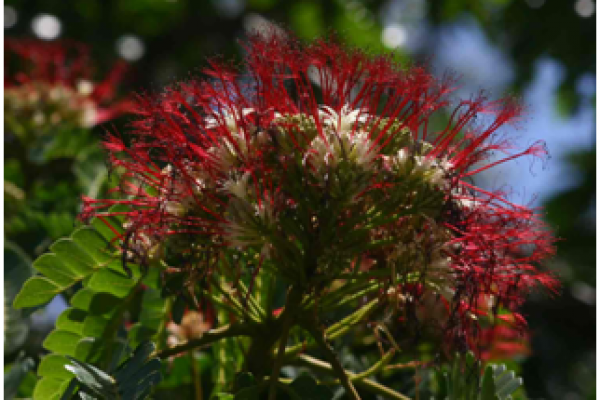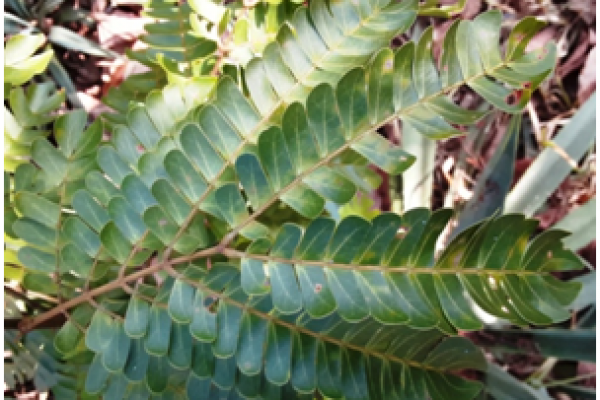 The other Albizias which sort of have similarly sized leaflets are fairly easy to identify as their leaflets and flowers are all different.  It can be clearly seen that the flowers of the two Albizias below do not have staminal tubes. Albizia zimmermannii ( Zambezi  Valley) on the left and Albizia schimperiana (Eastern Highlands) on the right were both photographed at the National Botanical Garden.   Whereas the A. zimmermannii  has symmetrical leaflets, the A. schimperiana  has  asymmetrical leaflets with two veins from the base.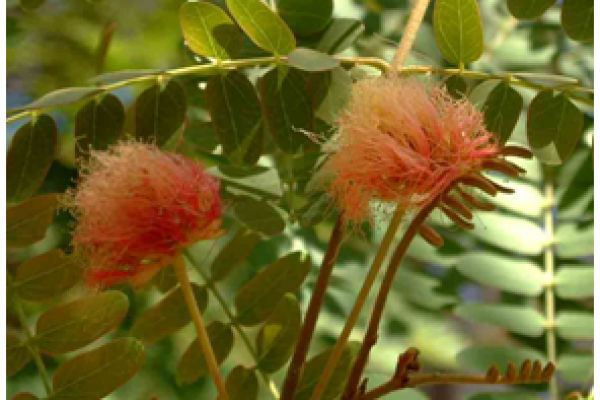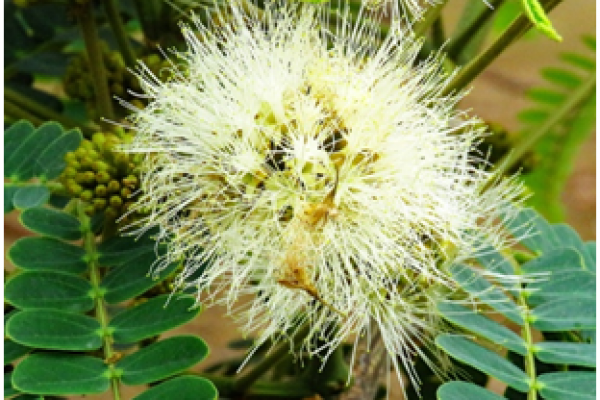 The fourth is the Albizia adianthifolia. Rough-bark flat-crown with its distribution also mainly in the Eastern Highlands. As can be seen below, the flowers are white, a few don't have staminal tubes but the majority do have. The leaflets shown on a single pinna are sort of rectangular but not nearly as much as those of the A. gummifera.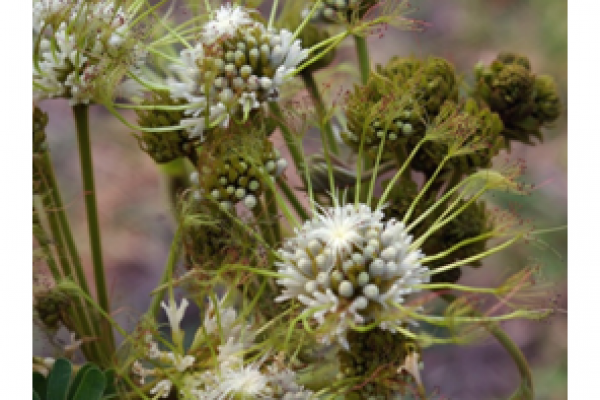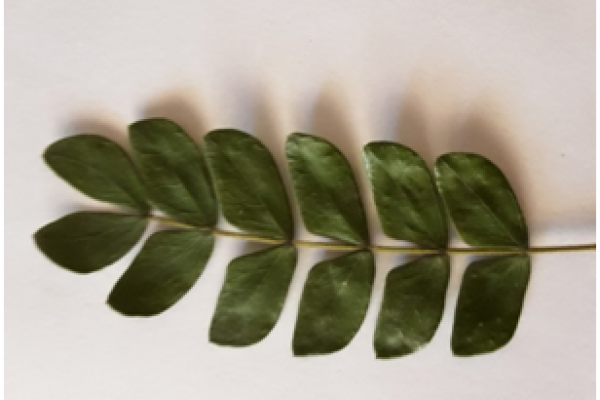 The only known Albizia adianthifolia in Harare is a garden tree at 209 Second St. Ext.  If you know of any other Albizias within Harare besides the indigenous species and A. gummifera, let us know so we can document them.
The  other Albizias that can be seen in the National Botanical Garden apart from those two already mentioned are: A. amara, A. harveyii, A. anthelmintica, A. antunesiana, A. gummifera , A. glaberrima, A. versicolor and A. coriaria – an exotic from Zambia.
For detailed information on the indigenous Albizias south of the Zambezi River, refer to the book by Keith Coates Palgrave entitled Trees of Southern Africa which has been revised and updated by Meg Coates Palgrave. At the beginning of the Albizia section, there is a dichotomous key to help you identify all the species that are indigenous to Southern Africa.  Below is a more up to date key.
Key to the tree species of Albizia: 
1.  a. Leaflets small, shorter than 10 mm, and leaves looking feathery
   b. Leaflets not really very fine or small, comparatively large, longer than 10 mm
2.  a. Bark grey to brown, not peeling in thin, reddish papery pieces like a paper-bark
    b.  Bark white and peeling in thin reddish papery pieces to reveal an opalescent underbark; leaves with 2–6 pairs of pinnae and 5–13 pairs of leaflets; usually occurring among rocks
3.  a. Leaves usually with 4–8 pairs of pinnae
    b. Most leaves with 1–4 pairs of pinnae
4.  a. Most leaves with 10, or fewer, pairs of pinnae
    b. Leaves usually with more than 10 pairs of pinnae
5.  a. Leaves with 10–18 pairs of pinnae; leaflets slightly sickle-shaped, with apex sharply pointed and the midrib going up 1 side; rachis about twice as long as wide; young branches with pale brown, velvety hairs
    b.  Leaves about 4 times as long as wide with 12—44 pairs of pinnae, each with 20–50 pairs of leaflets, very small and difficult to distinguish individually, each leaflet only 2–4 mm long and symmetric; petiole, rachis and leaflets with golden, velvety hairs, especially when young
6.  a. Young branches and leaves with silver-grey velvety hairs; leaves with 2–7 pairs of pinnae and 6–14 pairs of leaflets
    b.  Mature leaves and twigs hairless; leaves as broad as they are long, with 6–10 pairs of pinnae and 15–30 pairs of leaflets
7.  a. Leaflets more or less oblong, not markedly rectangular
    b. Leaflets markedly and conspicuously rectangular
8.  a. Leaves with 6–12 pairs of leaflets per pinna; midrib diagonal across the leaflets; leaflets 2 cm long; flowers with showy, long, exserted staminal tubes, pink, red or green with dark tips; often with 1 or 2 larger modified flowers present in the center with the staminal tube not or scarcely protruding, even when it is protruding well beyond the petals in the others
    b.  Leaves with 16–21 pairs of leaflets per pinna; leaflets obliquely oblong, tending to be less than 2 cm long,  apex with a small point; flowers conspicuously white, with no red
9.  a.  A tree of low altitudes, usually below 1000 m; branchlets, leaves and pods with yellow-brown, velvety hairs, so the leaflets paler than in A. gummifera; leaflets not 'heeled'; stipules large and shield-like at the base of the peduncle, staminal tube whitish with dark tips; bark usually rough, with shallow squares like crocodile skin
    b. A tree of higher altitudes, above 1000 m; branchlets, leaves and pods almost hairless; leaflets dark, glossy green, each leaflet with a small but distinct 'heel' on the short side of the asymmetric base; stipules at the base of the peduncle, slender, lanceolate, staminal tube pink or reddish; bark usually smoothish, creamy, greyish brown; not occurring in South Africa
10.  a. Leaflets mostly longer than 2 cm; rachis not forming a hook at the end and the branchlets seldom spine-tipped
    b.  Leaflets obovate to almost circular, 0,8–3,6 cm long; rachis with a downward-bent hook at the end; bushy, densely twiggy trees with smooth, pale greyish, reddish grey or brown bark, with prominent lenticels; branchlets often spine-tipped
11.  a.  Leaves with less than 8 pairs of leaflets per pinna
    b.  Leaves with 6–21 pairs of leaflets per pinna
12.  a.  Leaflets up to 2 x 0,8 cm, two veins from base, apex drawn into a conspicuous, asymmetric point, or sometimes rounded but seldom notched; occurring in eastern Zimbabwe. Leaves with less than 8 pairs of leaflets per pinna
    b.  Leaflets up to 1,5 x 0,5 cm, oval, apex rounded, notched; not occurring further south than the extreme north of Zimbabwe
13.  a. Leaflet margin not particularly wavy; not confined to the Hlabisa district in KwaZulu-Natal
    b.  Leaflet margin crisped; pinnae with 5–8 pairs of leaflets, oblong, 2–2,5 cm long; endemic to the Hlabisa district in KwaZulu-Natal
14.  a.  Leaflets not sharply narrowed to the base, smooth or velvety, not rough
    b.  Leaflets, especially the terminal pair, sharply narrowing to the base, producing a heart-shaped appearance, 8–16 mm long, the undersurface with minute rough hairs and apex sharply tipped; flowerheads often with 1 or 2 larger modified flowers present in the centre with the staminal tube not or scarcely protruding even when it is protruding well beyond the petals in the others
15.  a.  Mature leaflets hairless or only with scattered hairs
    b.  Young branches and leaflets remaining densely hairy, often rust-coloured even when mature; leaflets very large for the genus, up to 5,5 cm long
16.  a.  Leaflets with apex tapering to a blunt point, midrib more or less diagonal, only slightly paler below; occurring in Zimbabwe usually at altitudes below 1000 m
    b.  Leaflets with apex rounded, sometimes notched, conspicuously paler below; a tree more of the medium to higher altitudes