Once or twice a year members of the Tree Society go on a weekend botanizing outing to somewhere where the flora is quite different to that found in Harare or surrounds. Unfortunately since 2018 we have been unable to enjoy another remote weekend trip, in 2019, the economic situation and the serious lack of fuel put an end to a weekend outing and since then the Covid-19 pandemic has been the problem.  However, the pandemic appears to be behind us now and a weekend trip to a remote location is being planned for later on in the year.
The last trip undertaken was in 2018 to Seldomseen in the Eastern Highlands of Zimbabwe.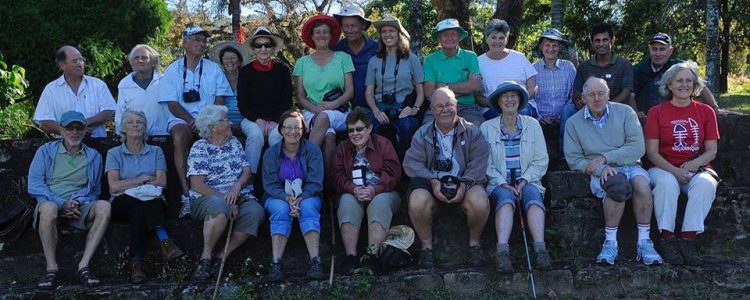 Sometimes these week end outings are very well supported.
OVERVIEW OF THE TREE OUTING TO SELDOMSEEN – November 2018
The first time the members had any idea of the planned trip to the Eastern Highlands was when they received an email on 15th September 2018 from Mary Lovemore entitled "PROPOSED TREE SOCIETY EXPEDITION TO THE BVUMBA AND BURMA VALLEY 16TH – 19TH NOVEMBER 2018" – the opening paragraph is shown below:
"We think it is time to take to the Hills again and refresh our souls and take in the beauty that the amazing Bvumba and Burma Valley has to offer us after the stresses and strains of the last few months and before the stresses and strains of the Christmas season is upon us.  The weekend we have in mind is as above, and we are fortunate that our tree "gurus" Mark and Meg will be able to be with us on this weekend.  So we will have good botanizing with our gurus and be able to enjoy our time in beautiful forests."
Well, until the last week, we had 18 members signed up for the trip.  Unfortunately for various reasons, six of them had to cancel at the very last moment.  This left us with a very manageable party of twelve members.
The Tree Society of Zimbabwe week end (16th-19th November 2018) outing to Seldomseen in the Bvumba was a tremendous success.  Seldomseen is a well known "Birding Hot Spot" but is open to anyone or groups.  Accommodation is for self catering but groups can be catered for in the Witchwood Lodge dining room.
The highest point in the vicinity is Castle Beacon at 1890 metres elevation and at one time was believed to be the one end of the longest VHF link in the world. This was a telephony link to Malawi over three hundred kilometres away. Nowadays, it probably provides communications for mobile phones for Net One users.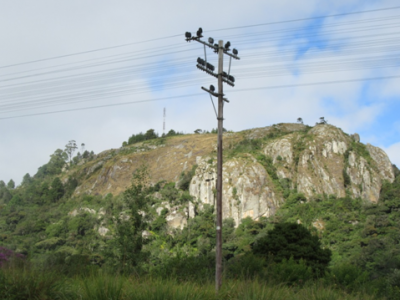 Seldomseen itself is on the side of the mountain and its main complex (Witchwood Lodge and office) is at some 1600 metres elevation. There is quite a drop in elevation from the top of the property down to the camping area.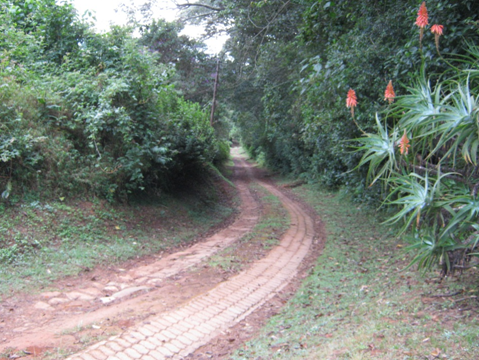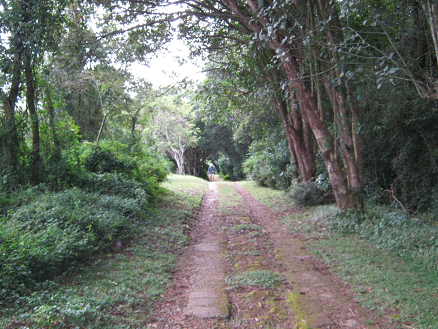 Whilst on our botanising weekend, we occupied all the self catering accommodation, that is: Witchwood Lodge, Twin Streams and Swynnerton Cottages.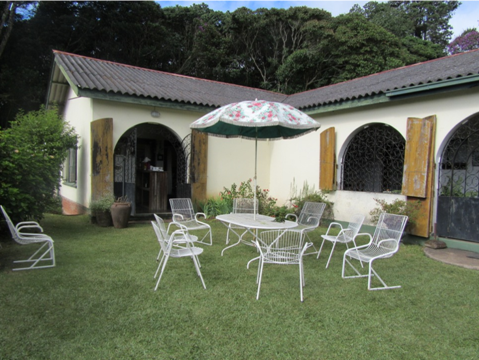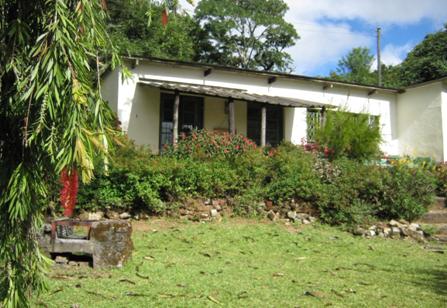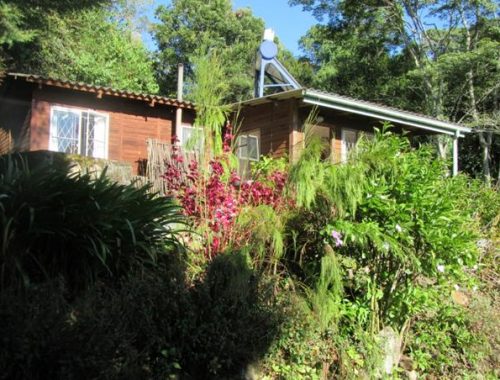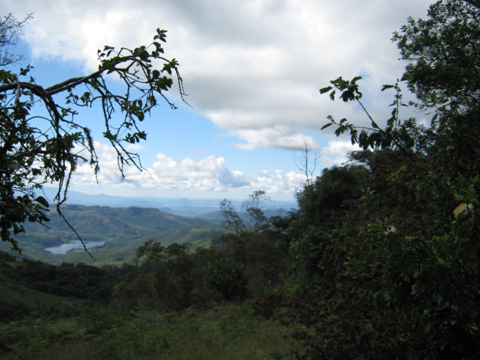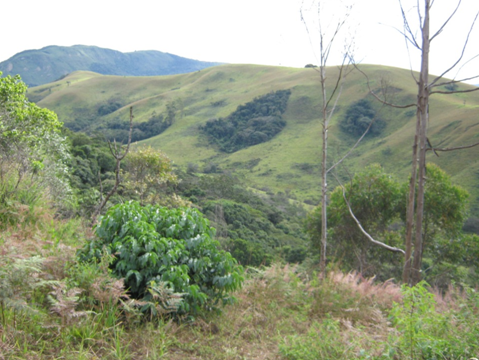 The views around the Bvumba are quite outstanding, here are two views from Seldomseen.
We arrived on a Friday afternoon, botanised along the Vumba road later on that day and the next day we went down into the "Burma Valley" where we were below 700 metres on the banana farms. Naturally with such a large variation in elevation, there was a large variation in flora but the "Gurus" had no problem with identifying what was what.    On Sunday morning we went to Madrugada where there is a forest with some really huge trees.
Apart from a large fig tree which appears to be a Ficus chirindensis  Fairy-tale fig, there was a really huge Polycias fulva Parasol tree. This tree was a problem to identify due to all the creepers growing high up making it extremely difficult to see any branches or leaves. What was rather strange was that the Madruguda elevation is only 200 metres lower than Seldomseen yet the flora was markedly different!

Various trip reports now follow 
These reports are to be found in  Tree Life 460 & 461
Report by Mary Lovemore
Another very successful Tree Society away trip accomplished.  This was a happy few days, made so by the amazing hospitality received from our hosts, Ken and Sue Worsley who met our every need and provided wonderful dinners all in the face of the mega inflationary food prices and fuel shortages.  As luck would have it there seemed to be a lull in the fuel crisis and we were all able to fill our cars on return.  Without the enthusiastic encouragement of Sue Fenwick it would have been difficult to get the show on the road.  Sue and her team do so much to keep the beautiful Bvumba forests in the pristine condition we see them in, thank you Sue.  Sue put me in touch with Rupert and Pru Hildebrand, who, for the last three trips I have done to the Bvumba, have been away.  Thank you Rupert and Pru for giving us such a warm welcome and for giving us so much of your time.  It was great to get the little tit bits of information about your Burma Valley Farm and to be taken to see the flowering Rafia palm and the plantation of Dendrocalamus giganteus, the giant bamboo, these little corners of the farm we would not have seen without your guidance.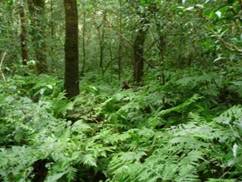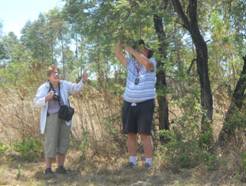 A new Bvumba experience for me was the drive down Essex Road, magic and this bit of forest to be explored on another occasion.  However, the reason I had this lone adventure was because I had misinterpreted instructions as to how to get to Magrugada, the Fairy Forest pad of Roger Castelin.  We do thank you Roger for your guidance and hospitality.  It was also great to have Peter Buttress with us again whose knowledge and enthusiasm never wavers.  Must also mention how good it was to see Tessa Ball again, thank you for joining us.
The main objective in organizing a weekend such as this, is, of course, botanizing and to have had both Mark Hyde and Meg Coates Palgrave was great.  Fountains of knowledge, both of you, and what is more is the generous and patient way you share your knowledge with us all.
The Bvumba/Burma Valley is a great destination for a botanizing weekend and I am sure one that can be explored again and again.
Report by Julie Stevenson
Twelve of us arrived, like the 12 apostles of the Tree Society, from Harare in the early afternoon on Friday at Seldomseen in the Vumba.  Later that evening we were joined by a few local folk from the Vumba and Burma Valley as well as our hosts at Seldomseen, Sue and Ken Worsley.   A lively and tasty dinner together set us up for a fabulous weekend of botanising and socialising.
This was my first – my maiden voyage – for a weekend away into the weird and fascinating world of trees and botanising with the Tree Society. The experience seemed, at times, like navigating into new and mysterious territory.  Humble little green plants, which I stumbled past in my ignorance, were pounced upon by the 'fetishists' (by that I mean the knowledgeable botanists) whereupon it was examined, discussed, photographed, samples taken, notes written, more discussion and eventually left alone to grow on quietly. Trees, some too majestic and inaccessible to reach, were examined with binoculars, books spread out, apps at the ready. Now and then, the ever agile Bilal was ready to scale a knotty tree or scramble heroically up a vertical incline on the side of the road, to reach the leaves or fruit for identification.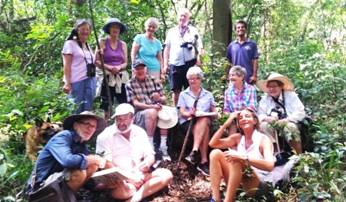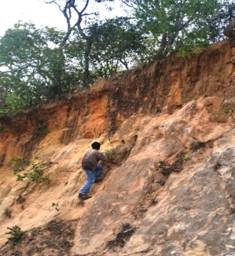 Our weekend of botanising pivoted around Zimbabwe's most hallowed of tree experts:  'The Meg' (Meg Coats Palgrave).   She walked and scrambled over every bit of tricky terrain that we did, using her stick, calls, for help and her bottom, in her determination to get down a ravine to see the raffia palms, or the Giant bamboo (Dendrocalamus giganteus) in the sweltering Burma Valley.  Neither was she daunted by the steep and narrow paths through the dark pristine forests of Madrugada.. The alarmingly cruel and ruthless fig trees we saw (such as Ficus sur and Ficus chirindensis.) having slowly snuffed out the life of their host trees, have formed a mesmerising criss-cross of branches roots, producing a scene scape fit for a futuristic film set.
Our Saturday was spent in the Burma Valley, in the hands of the calm and knowledgeable Rupert Hildebrand.  Having descended from about 1600m up at Seldomseen, we plunged down to around 670m into the Burma Valley.  A long lunch in Christine Hildebrand's garden followed and we sprawled and panted and ate our packed lunches in the deep shade.
The impression overall of this fascinating trip was one of sharing knowledge and humour  with good people in beautiful and varied environments.   As The Meg said to me:  'It's not what you know, it's your interest in learning and your curiosity that count.'  It was a truly mind-awakening weekend for me, and I will be back as soon as possible for another field trip.  Thanks to all of you for sharing.
Report by Jan Van Bel
One of our favoured botanizing spots in the country was waiting for us. Mary had organized and contacted our local members in the Mutare and Vumba area to make it a memorable and educational highlight of the year. The weather predictions were perfect. No rain expected. Giving allowance for the Harare morning traffic-rush to fade out, we had spread ourselves over the available 4×4 cars that were taking the road to Vumba. So we had ample time to get to Seldomseen, our lodgings in the Vumba.
The road good and traffic not being that obtrusive, we were able to look left and right and greet the trees that flitted past. Tony, who was driving, identified some of those that came returning intermittently by using remote GISS, intuition and botanical knowledge. We saw plenty Parinari curatellifolia, Mobola-plum, Terminalia sericea, Silver terminalia and Acacia (Vachellia) karroo. Sweet thorn. As we all knew the direction we were going, we could now concentrate our attention to the level of elevation we were flying. I hereby don't want to allude to the speed we were going, although some in the car may have had a different opinion! Looking at the GPS we saw that the elevation was rising to about 1600 m, somewhere past Marondera. This changed my view and perception of the trip to the Eastern Highlands, which I had undertaken many times before under the impression that we were climbing to the Mountains. The lowest point between Harare and Mutare being at the Odzi river (Osborne dam) at less than 800m. Our final destination was only about 100m higher than Harare.
It was about 2.30 pm when we arrived at Seldomseen in Vumba. A place with an iconic name, famous for its hospitality, the beautiful gardens, the birds and its nursery where Azalea, Hydrangea and Tibouchina take front places. It was 30 years ago, when looking for accommodation in the Vumba, that its name enticed me and my family to a closer look, and we immediately booked. I have returned there several times over those decades but the place still looks the same. It gives the feeling that time stands still here …
It didn't take more than half an hour and most of us were already back in the car as Meg had undertaken to look for the place where she knew we could have our first acquaintance with a Rapanea melanophloeos, Cape-beech. This nametag was found on a tree in Harare in the National Botanic Garden and had no relation to this species. Having never seen one, we were eager to go, although a relaxed walk around the cottages and through the gardens here, would have maybe been more appropriate after that long drive.
So, we hopped into the cars, only to alight again after a mere 200 m, where Mark or Meg must have spotted something of interest. The excitement was boiling. We spun around left and right; followed Marks eyes up to the canopy and down in the grass; lost our orientation and in only 5 min were already overloaded with a list of about 10 names of which most were unfamiliar to us. Having expected us to go look at one tree, I hadn't taken any pen or notebook with me. Luckily Ann was already recording and I was able to copy the list in the evening.
It must have been an Aphloia theiformis.  Albino-berry, which arrested them. A small tree, it was showing off its white berries generally and evenly spread amongst its glossy dark leaves, giving a very balanced attractive picture. Maybe it was Sparrmannia ricinocarpa, Mountain stock-rose, that solicited the stop. A shrub with hairy heart shaped lobed leaves with white flowers with yellow stamens and seedpods with bristles like in the Ricinus or Castor oil plant. Further was given attention to: Rhamnus prinioides, Shiny-leaf; Macaranga mellifera, Mountain macaranga. We were going to see a lot of these. Searsia dentata, Dune crowberry and Keetia gueinzii, Climbing turkey-berry, one of the many climbers and lianas we were going to encounter. Then surprised to find it here was a Castanea sativa, Sweet chestnut which is very familiar to a European, bringing back memories of sitting at campfires and roasting the tasty nuts which are hidden under the bristly shells from the pods. It had fruits hanging but regrettably not yet ripe. Another climber was Adenia gummifera. Snake-climber. It has 3-5 lobed leaves and can become a very large woody climber close to 30 m long with a diameter of 10 cm. the plant is used as food, medicine and glue. At the other side of the path there was Acacia melanoxylon, Blackwood, a common appearance in the Eastern highlands. An introduced species for its hard timber. It is unarmed and has simple leaves (not expected in an acacia) which are in fact swollen petioles (phyllodes), looking a bit like podocarpus leaves. Just next to it was another Australian Acacia: Acacia mearnsii, Black wattle, also unarmed and with the usual pinnate acacia leaves. Mark showed us the glands on its rachis. It's South Africa's worst weed species, having invaded 2,5 million hectares there.
Back in the car and on the Vumba road again in the direction of Mutare going to the sharp hairpin bend with a concrete protection wall on the valley side. And there it was : Rapanea melanophloeos. Cape-beech. The first I encountered and the only one in our 3 day botanizing. It is a medium sized tree about 7 m high. Leaves oblong-lanceolate and thick leathery with margin rolled under. We were made to look at the gland dots visible when holding it up to the sun. Close by we saw Schefflera umbellifera. False cabbage-tree. The first of many that were going to make us quite familiar with it. It has a digitate leaf with an extra-long petiole up to 30 cm long. We also recorded Vernonia amygdalina. Bitter-tea  vernonia; Tabernaemontana stapfiana. Soccer-ball toad-tree, of which we encountered several in the following days, but no fruits; Ficus craterostoma. Forest fig; Cussonia spicata. Cabbage-tree. Crossing the road, we saw a small tree erupting between the road and the concrete side-wall. It was only 50 cm high and had attractive round leaves. Mark named it Trimera grandifolia. Wild-mulberry, from the Flacourtia family. Interesting as most of us had never seen one and it was going to be the only one on this Vumba trip.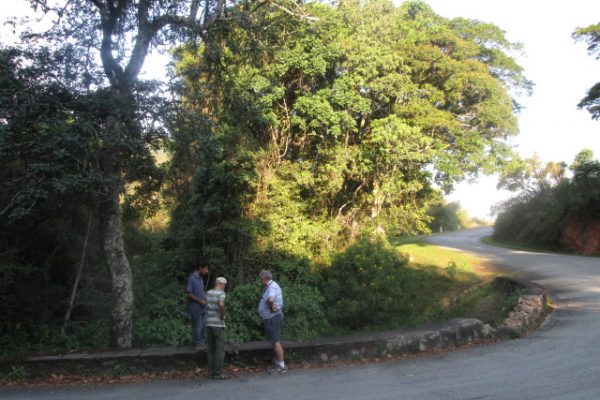 Now there was no stopping us anymore and we recorded:
Schefflera goetzenii, liane type schefflera, quite common here.
Erythroxylum emarginatum. African coca-tree. Many seen this weekend.
Xymalos monospora. Lemonwood. We were also going to get familiar with this new tree with large leaves with toothed margin, some partly or not and a quilted appearance with conspicuous veining.
Clausena anisata. Horsewood, was waiting for us to smell it before acknowledging.
Schrebera alata. Wing-leaved wooden pear.
Albizia gummifera. Smooth bark flat-crown. Several seen at Seldomseen.
Cassipourea malosana. Onion wood. A small tree with stiff serrated opposite leaves and horizontal branches.
Gymnosporia harveyana. Black forest spike-thorn. Another Eastern Highlands special. An attractive spiny shrub or small tree with little white flowers.
By now it was getting late and the sun hidden by the mountains. Some of our tree-friends from the area here were expected for dinner at our lodge. So better drive back and get acclimatized to our room and gardens. A quick hot shower and then up to dinner at the main house. There, our local tree society members had arrived. Tess, Peter, Roger, Pru Rupert. They all had helped Mary in facilitating and planning the trip. Our hostess, Sue had prepared an inviting rice dish followed by a dessert which gave the place an extra star. In the following days we were going to experience Sue not only as a friendly easy going manager and good chef, but also as an eager enthusiastic and knowledgeable botanist.
The next morning the birds woke us up before 5 am. It was misty and the sun trying to break through. So why not get up and follow Tony, who we could trust upon, must be ambling around, trying to find and see the source of all this vocal excitement. Certainly, I could maybe get to know some new birds from Tony's trove of ornithology. The thick forest however proved to be too good for a hiding place and I only saw 2 birds. So hardly worth recording and now forgotten what they were.
At 8.30h everyone was ready for our Burma valley trip. Leading the way was Peter Buttress, who is well acquainted with the area. Our first stop before descending into the valley was at the roadside where a copse of Brachystegia spiciformis, Msasa trees asked for closer investigation. These Msasa's had 7 leaflets besides being all of the same size, which is not what we are used to. This aroused some debate and the question if it was maybe a subspecies or should become one. Or could it be a hybrid from B. spiciformis and B. utilis? Close by we also saw Brachystegea utilis. False mufuti. Albizia Antunesiana. Purple-leaved albizia. Pterocarpus rotundifolius. Round-leaved bloodwood. Brachystegia boehmii. Mufuti and the ubiquitous Vernonia.
We went back in the cars and continued our descent into the valley. At a small river, some local people were doing their laundry. What warranted a stop was probably not the need for a chat with the locals but some interesting trees .
Terminalia gazensis. Fringe-leaved terminalia.
Annona senegalensis. Wild custard-apple.
Euphorbia tirucalli. Rubber-hedge euphorbia.
Bridelia micrantha. mitzeerie.
Furcraea foetida. Mauritius hemp. A very large agave type with leaves to 3m long and 50cm wide.
Flueggea virosa. Snowberry tree.
Dalbergia melanoxylon. Zebrawood.
Carissa edulis. Simple-spined carissa.
Euclea schimperi. River guarri.
Senna petersiana. Eared senna.
Back in the car and negotiating the winding roads to another stop for some trees not yet on the list. From now on I will only mention those ones not yet recorded in this report.
Bersama abyssinica. Winged bersama. It has compound leaves with winged rachis and golden hairs on the petiole. We saw many of these which are at home here.
Syzygium guineense subsp. afromantanum, whose leaflets have long tips
Ficus lutea. Giant-leaved fig.
Trilepisium madagascariense. Urn–fig, separated from the ficus genus because of a different flower composition.
Blighia unijugata. Triangle-tops. A new tree for me. Its compound leaves fiery red when young, making it an interesting garden tree. Leaflets to 15 cm long.
Rawsonia lucida with the glossy dark green leaves with sharp serrations.
Oxyanthus speciosus. Wild loquat. Also called Whipstick tree for its long flexible twigs. Its long opposite leaves reaching 30 x 15 cm.
Driving further down the valley to where we would meet Rupert at a farm, our GPS was now down to about 600m. So we had now descended about 1000m. Taking a path between banana plantations, we stopped and parked at a huge Grewia monticola. Grey grewia, which must have reached its maximum height (8m according to the books).
Artabotrys, red or purple hook-berry. Not certain which species it was. The very characteristic hooked stalks and fragrant leaves giving us the genus. A few meters away, close to the Nyamataka river, we saw the thick copse of giant green bamboo's with a diameter of about 25 cm: Dendrocalamus giganteus, imported from Asia. This unusual sight was worth a visit. Driving further along the banana plantation, we parked again in front of a fence with a cattle stop gate. Now this curved entry between barbed wire, proved to be a bit of a challenge for the more corpulent amongst us. With teamwork, the poles could be pulled apart a little and Mark could be freed from the trap he had gotten himself jammed in.
We entered a micro-biotope around this river which must at times be roaring like a waterfall. Saw a Diplorhynchus condylocarpon. Wild-rubber, whose leaves were unusually round for me to recognize it. Strychnos madagascariensis. Hairy-leaved monkey-orange with hairy leaf edges. Got to learn of 2 more local climbers: Gouania longispicata. It has coiled tendrils and serrated leaves with the veins impressed on top and long attractive spikes of flowers. Adenia digitata. Wild granadilla.
Besides the usual trees that we saw as we had expected to find here, we now came upon the Raphia farinifera. Raffia palm which is a native with the largest leaves or fronds in the world, up to 18m long. The diameter at the bottom was about 1m. Its fruit like a gloss-polished hard wood sculpted cone. We were very fortunate to see these fruits as Rupert told us that this tree only gets into seed about every 15 years.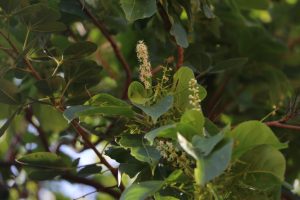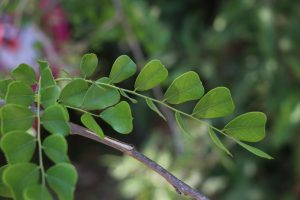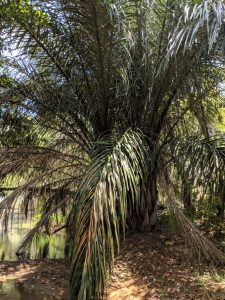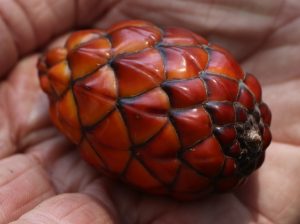 Now from down at the weir in the river we climbed back up the bank. And what comes down goes up again. We were so lucky Meg had decided to also slide down with us and help with identifying. The Raffia palm must have had a magnetic force to bring her here. Its traction even more visible trying to get away from it and up and up the river bank. With a little help everyone got back, squeezed through the cattle fence and to the cars.
At Rupert Wildebrand's house we parked next to a Terminalia catappa. Indian almond, an exotic tree with leaves reminiscent of the large Anthocleista leaves. Afzelia quanzensis. Pod mahogany, was giving shade for the cars and another one was embracing a perfect sitting area overlooking the valley on whose rock face the house was built. On this hot day it was easy to see why some huge fig trees had found a welcome home here and were cherished for their shade. 2 Ficus lutea, Giant-leaved fig, around a natural rock pool and an old Ficus burkei. Common wild fig, giving cover to the house. It was now getting very hot and Rupert surprised us with icy lemon water, a welcome relief. Beer was also offered, but would have come down hard in this heat. Meg was of another opinion and had her trademark drink. The house has a beautiful flower garden all around in between the rocks. People were sitting down and not much botanizing was done; most of us having visited this place before.
After this little break we drove down to Christine Hildebrand's fairy tale natural-stone castle to have our picnic. We passed an impressive Litchi plantation that was embracing the lovely home. We took our chairs out onto the lush green lawn. Icy cool drink was available and shade was guaranteed by Entada abyssinica. Tree entada; Brachystegia utilis. False mufuti; Sapium ellipticum. Jumping seed tree and an impressive Bersama abyssinica. Winged bersama, which according to Mark is of subspecies Nyassae, the most common here. A crate of bananas was put in our midst for everyone to take. They all had data engraved on them, as each was from a different bunch and marked rank and harvest details for that specific banana tree. We ambled around the garden looking at some more trees most of them already recorded here. Still to mention 2 foreign trees: Caesalpinia ferrea. Leopard tree, always a nice picture, and the Pachira insignis. False chestnut, usually planted for its fruits. The weather was hot and the altitude a bit too low for some of us. Meg had closed her eyes and was probably re-tracking her descent to the Raffia palm.
Everyone got some bananas to take with and it was time to get back on the road. Entering the main road, Albizia versicolor. Poison-pod albizia and Harungana madagascariensis. Orange milk tree invited us for another stop. Trees we are always hoping to encounter here. The Harungana with the young leaves so modestly pressed together. Zanha golungensis. Smooth-fruit zahna and Landolphia buchananii. Apricot vine, a native climber with edible fruits. It was a long drive up to Vumba again. But before we were there another stop was made to look again at those Msasa's, which are so different here. Next to these, some not yet on the list: Diospyros Whyteana. Bladder-nut; Searsia natalensis. Northen dune currant and Osyris lanceolata. Rock tannin-bush, a native shrub, rarely a small tree. This one was about 1.20 m high. At last we got back to our rooms, everyone tired and hungry. Sue had done her best again with dinner and her trademark dessert. It was going to be a short evening. Early to bed, even Bilal skipped his wood fire.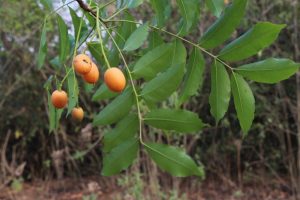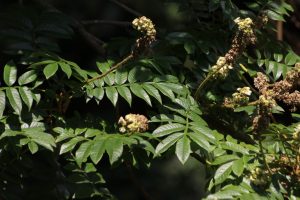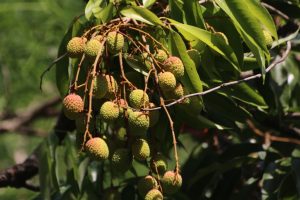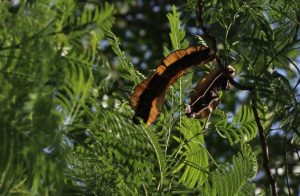 Our last and third day started again with the birds waking us up. Not much interested in joining Tony on his bird-walk, as the previous one was a bit disappointing, we had all the time for a hearty and relaxed breakfast. Our destination was called "Madrugada", the lovely mountain chalet where Roger Castelin had invited us to visit his forest. We took the road down past Eden lodge and turned right to climb to Roger's place. While waiting for the other cars, we were joined by Peter Buttress who came walking up carrying some different types of fern-leaves he wanted to be identified or confirmed. One fern had vicious prickles all over the stalk. It is indigenous and has long (2 to 3 m) leaf bases. When later on Mark arrived he confirmed it was Cyathea manniana. Spiny fern tree. Because Peter had only a little time, as he had to rush to a meeting, he proposed to go show me some trees which we should look at, while we awaited for the other cars to arrive. He acquainted me with the wild coffee tree which has proliferated gregariously here. He also pointed out an Albizia schimperiana. Forest long-pod Albizia and remarked the string-like spiral running all the way up around the trunk. He indicated some interesting specimens that were worth having a better look at. When we returned to the parking, the other people had at last arrived. The story was that they had taken the wrong turn and found themselves suddenly at the Eden Lodge before realizing their mistake.
Everyone present now, Roger took the lead and I took my notepad. An old forest where the sun is tempered by the layered canopies, opened up for us. The trees we saw that are not yet mentioned in this report were :
Peddiea africana. Green-flower tree, a shrub or small tree.
Dombeya burgessiae. Pink dombeya
Craibia brevicaudata
Rothmannia urcelliformis. Forest rothmannia with soft silky leaves.
Trichillia dregeana. Forest natal mahogany
Kiggelaria africana. Wild-peach
A considerable time was spent and many pictures taken under a mastodon fig-tree which had that pillared trunk so typical for Ficus chirindensis, Fairytale fig. Confirmation of the species was difficult. A few leaves were in reach and could be examined. With binoculars we could see figs hanging on stalks. A few figs on the ground could still not give certainty and the debate sansibarica or chirindensis went on for some time.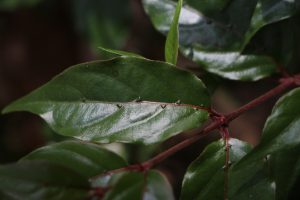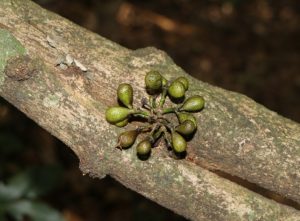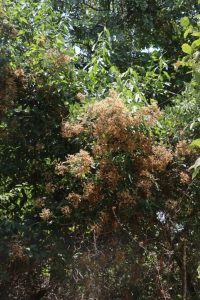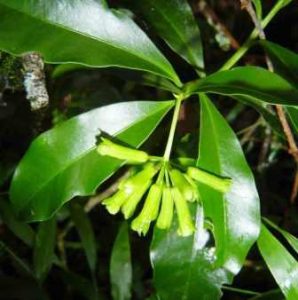 After a short rest under this biggest tree of the forest, we continued seeing and getting more and more familiar with some new tree-names. And still new trees were added to the list.
A big Trilepisium madagascariensis. Urn-fig, with a trunk of 40 cm in diameter.
Polyscias fulva. Parasol-tree, also on home ground here.
Rhoicissus tomentosa. Simple leaved grape, an unusual sighting for us from the midlands, and very different from the trifoliate leaves from the other species in the genus.
Tecteria gummifera. a common fern here, probably introduced here for its attractive leaves.
We were back at Roger's house, but before going for the tea that was being served, Mark was still spotting interesting things in the garden and commenting on it.
Cephalanthus natalensis. Strawberry bush, a native shrub or small tree.
Maesa lanceolata. False assegai, full of white inflorescences.
Choristylis rhamnoides. False shiny-leaf.
Mussaenda arcuata. Forest star was flowering profusely and very attractive.
Catha edulis. Bushman's tea.
Mondia whitei. Tonic root. Another common native climber.
Aeschynomene sp. , False-teeth tree.
We all had a cup of tea and some of us climbed further up the mountain where Roger is letting out some cottages with a most beautiful panoramic view.
Going back to the car, we past an impressive and beautiful Sapium ellipticum. Jumping seed tree.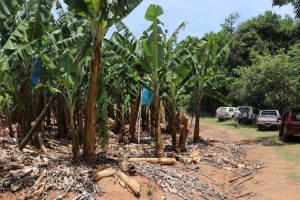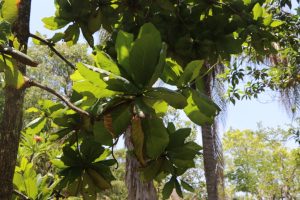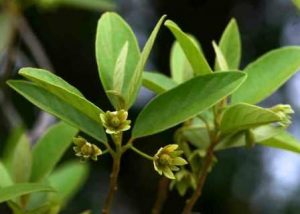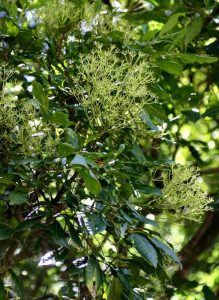 Back at Seldomseen, it was now high time to have a look at the vegetation here. This being our last day and we hadn't had time to marvel at the gardens and the woods around it. Only a small group followed Mark, who still had a lot of interesting things to show us.
We started at the nursery entrance where we got to see Halleria lucida. Tree-fuchsia with fruits growing on the old branches. We walked down and saw Hedychium, Kahili ginger lily, one of the ginger family with huge leaves and a long erect spike of flowers.
Some species not yet recorded in the previous days:
Searsia chirindensis. red currant rhus.
Trema orientalis. Pigeonwood.
Bersama swynnertonii. Purple bersama. This is a rare find with rachis not winged and with less leaflets compared to the usual Bersama to be seen here.
Buddleja salviifolia. Sagewood.
Toddalia asiatica. Cockspur-orange. Trifoliate liane with thorns and fruits like small oranges.
Down at the bottom of the road, the Crimson wing cottage, which is now being used as a camping spot, looks out over the valley and has the most beautiful view and is open to watch sunrise and sunset. A Nuxia sp. that was too big and high to examine the leaves and confirm the species.
Urera tenax. Tree nettle.
Casearia battiscombei. Forest sword-leaf. A rare and native tree.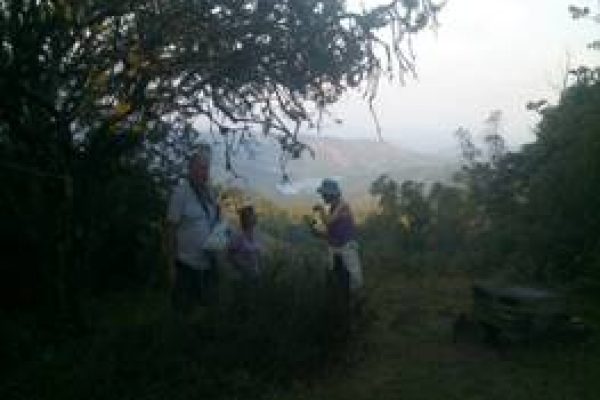 It was now late and in the twilight, we looked at what could have been agapanthus, but the flower was very different. Mark identified it as Cryptostephanus vansonii and was happy with this unusual find.
Sunset behind the clouds, we climbed back up the road that's even too steep for some of our cars. We passed the different lodges with the now familiar names; first Swynnerton, then Twin-rivers and at last after a few breathing breaks we arrived at the main house for our dinner.
After dinner and dessert, Sue had a surprise activity planned as a round off for our weekend. We got to see a video about the Victorian artist Marianne North, who painted flowers and landscapes. She travelled all over the world and got botanists very interested in the exotic specimens, which were mostly unknown in that period in the mid 19th century. Her depiction of some Banksia species made her known in the scientific world and a few plants got named in her honour. The genus Northia got named after her. She is remembered most for her painting of the largest pitcher plant in the world, found in Borneo, the Nepenthes northiana. All her paintings are at a permanent exhibition in Kew Gardens.
Our weekend of botanizing having come to an end, this last evening should be special. For Bilal this meant a wood fire and roasting some marshmallows. People were invited and some turned up at our lodge. It didn't take long and one by one we started drifting off to our beds, our bellies and brains saturated and sated.
Thanks you Mary and the Vumba community for making this trip so complete. Thank you Sue and Ken for accommodating us in this economically volatile and uncertain period. Thank you Meg and Mark for giving this trip some direction and basis and purpose.