Parasitic plants
Whilst on tree walks, we often come across parasitic plants which take their nutrients from their host.  The parasitic plants are covered by the Flora of Zimbabwe web site however below are two examples of the two main groups.
In studying the trees of Zimbabwe, it is often interesting to consider those plants which interact with them and, specifically, parasitic plants. There are two main groups which parasitise woody plants. The first is the more drab group of mistletoes, found in the genus Viscum, formerly in the family Viscaceae, and now included in the family Santalaceae. There are 9 species in Zimbabwe and further information about these may be found on the Flora of Zimbabwe web site.
The picture is of Viscum menyharthii, growing on a fig in the National Botanic Garden, Harare.
The second group is the family Loranthaceae which contains the often brightly coloured 'matchsticks'-type flowers. 36 species have been recorded for Zimbabwe in 14 genera. Further details may be found at the Flora of Zimbabwe web site.
The picture below is of Globimetula mweroensis, here parasitic on Strychnos spinosa at Cleveland Dam, Harare.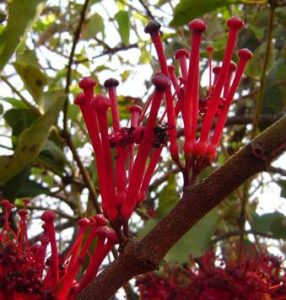 Globimetula mweroensis photo by Bart Wursten, Flora of Zimbabwe website.