TREE LIFE
JULY 2022
503
Hi Everyone,
Unfortunately during June and July we are in the cold and unrelenting grip of winter and this year appears to have been more severe than usual, certainly in terms of cloud cover and even unseasonal rainfall.
However there is rank destruction of our beautiful indigenous miombo woodlands around Zimbabwe to feed the voracious needs of tobacco curing barns and to keep town and country folk warm, fed and bathed.
It will undoubtedly be an unending battle to try and preserve what remains of these wooded areas and certainly re-establishing them is extremely difficult.
So just in case you haven't been there yet each month I'll suggest a place where you really need to go and tick off on your tree bucket list.
When spring has sprung, there are no finer views than those to be seen on various viewpoints short distances off the tarred road up to Leopard Rock in the Bvumba Mountains.
Trees are not limited by the musasas, there are exceptional, dense semi-tropical forests, true jungles in fact and here and there you will find some outstanding specimens of some iconic trees.  On our last visit we had this lavender tree ( Heteropyxis natalensis) was outside the lodge where we were staying, with a view deep into Mozambique.
Late August and September will be the time to see the miombo woodlands at their best, when the new leaves are bursting forth with such vibrant colours.
Seize the opportunity, there are many, many options to stay in the Bvumba and Mutare.
Tree Outing to Pleasantways, 19 June  2022
By Tony Alegria
Only four of us went to Pleasantways for a tree walk on a warm, sunny Sunday 19th June.  Our numbers were boosted by the residents and about a dozen of us looked at the trees!  We first met the residents over a cup of tea on the front lawn and this is where we started botanizing from.
Along the road were Spathodea campanulata and over the road were two different Aracauria species, monkeypuzzles, none of these were seen in the complex.
The first tree we looked at was an avocado pear tree, Perseus americana, whose natural habitat is Tropical America. In fact, the avocado pear was the most common tree in the complex and the residents often have the fruit served with their meals.
Next was a Mangifera indica, the mango and all were asked to "pick a leaf" (Sound familiar?), crush it and smell it. It is one of the few trees that have leaves that smell like the fruit!
There were very few indigenous trees:  Quite a big Khaya anthotheca on the front left corner, a pretty big Trichilia dregeana, two old Acacia polyacantha , a Searsia lancea and a few young  Dracaena steudneri.  Not a single Msasa!
Pleasantways is some fifty years old and a few trees were seen which had been cut down to a stump and some had coppiced. I would imagine it was because due to old age, parts of the trees had died and so had been cut down as they would have looked rather unsightly.
There were a number of Homalanthus populifolius. Bleeding heart, other common names being native poplar or Queensland poplar, which is an Australian rainforest tree in the family Euphorbiaceae although it doesn't have milky sap. The interesting thing about this tree was that there was one smallish tree with small leaves and there were a number of trees with rather large leaves.
We came across a hedge which comprised Holmskioldia sanguinea known as Chinese hats or cup-and-saucer-plant which had new as well as old flowers – the range of colours was extraordinary. Another hedge had a lot of Hamelia patens, fire bush within it.  Other plants seen and not mentioned above: Tecoma stans, yellow bells, Tecomaria capensis,  Cape honeysuckle, Citharexylum spinosum, the fiddlewood, Boccania aborea,  Eriobotrya japonica, Schinus terebinthifolius, Melaleuca bracteata, Vitex trifolia, Eugenia uniflora, Sapindus saponaria, Ligustrum lucidum, Tabebuia chrysotricha, Stenocarpus sinuatus, Poinsettia, Portulaca and a few others.
I did not get any pictures for Pleasantways, but below, a pleasant view.  The road to Buchwa Mountain.
National Botanical Garden Tree Outing 4th June 2022
By Tony Alegria
Only five of us were brave enough to go on a tree walk when it was so chilly. Ann Sinclair, Jan van Bel, Jim Dryburgh, Mark Hyde and I were the only ones present for what turned out to be a rather enjoyable day. It was freezing cold when the sun wasn't out and the wind was blowing but also pleasantly warm when the sun was out and the wind had died down.
We began by looking at the place near the pump house overlooking the dam. The plastic lining in the dam has really been torn to shreds in some places and there wasn't too much water left, but sufficient enough for a couple of Egyptian geese. There we had a look at a Diospyros sinensis and D. mespiliformis as well as a Pavetta gardeniifolia and Acokanthera oppositifolia.
On the way to the Acacia erioloba area we noticed many Feretia aeruginescens. Pink medlar, on the right just below the rocky outcrop. I am told that the fruit of the pink medlar is eaten by humans so the next time I come across some ripe fruit, I will sample them.  There was a tree losing its compound,  yellowish leaves which were clustered at the end of the branches – we could only guess this tree to be a false marula, Lannea schweinfurthii.  Mark suggested we make our way over the outcrop and we were surprised by what we saw.
There were many small trees:  Feretia aeruginescens, Bauhinia tomentosa, Markhamia sp. Combretum molle and a self seeded Sterculia as well as a few other things.  There were a couple of Albizia zimmermannii, Berchemia discolor and a few other big trees we couldn't identify as we couldn't reach the leaves.
Of interest was a Brachystegia allenii we had never seen before growing very close to the Guibourtias.  The Brachystegia allenii grow along the escarpment, I saw them on the way to see some Angola pittas down in the Zambezi Valley.
Nearby the Guibourtias  are some Sterculias with very few dry leaves, but we could only identify two of them – Sterculia africana and S. quinqueloba.
But close by was a Ziziphus we hadn't seen before – it was labeled:  Ziziphus pubescens. However, according to the book, this tree cannot be Z. pubescens as it was armed and had asymmetrical leaves. The interesting thing about this tree was the ovoid fruit – unlike the normal looking oblate fruit seen on Ziziphus abyssinica or Z. mucronata. We compared the leaves with a Ziziphus abyssinica and noticed that the leaves were very similar in that they were both asymmetrical. We also noticed that lobes of the leaves were on top and faced the stem on both sides, thus we had RHS and LHS leaves! We then looked at asymmetrical leaves on a Grewia and found they also had left hand and right hand leaves!  With this comparison done, it was time to go home and get some hot coffee.
2022 Tree Society of Zimbabwe AGM cum Social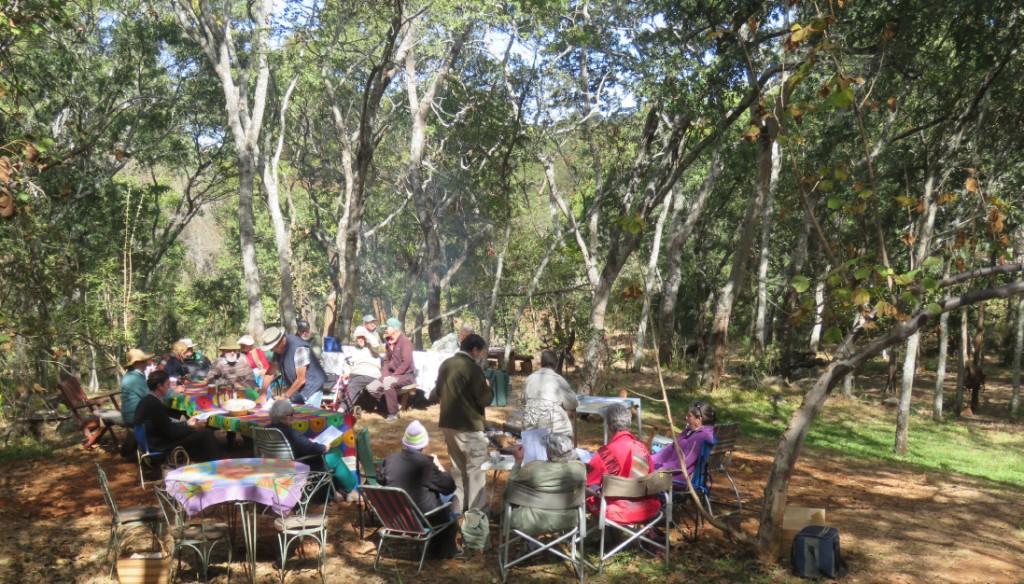 Tree Society 2022 Quiz, Bingo, Scavenger Hunt, Lunch and the AGM.  Miombo Magic   Photo by Rob Jarvis
The Tree Society of Zimbabwe managed to hold its Annual General Meeting just within the limits imposed by the Constitution, recently at a little bit of paradise tucked away just off the busy Rolf Avenue near St John's College.  All attendees were upright and accounted for at the end of the proceedings, well fed from a missionary-sized poitjie-pot.  They thoroughly enjoyed the day starting with the AGM including the Chairman's Report by Tony Alegria and Financial Situation by  Honorary Treasurer Bill Clarke.  The Committee was re-elected en-bloc and the Chairman made a plea for new leaders to host Tree Walks and to help administer the Tree Society website.
Those present were then sent off on a scavenger hunt by the host, Rob Jarvis, in groups of 3, to find at least 20 indigenous trees and 7 exotic ones.  The small print on the instructions said extra points for more than the mentioned numbers.  By then of course no-one was listening and several groups came back with just the mentioned numbers.  They were also desperate to tuck into the wine provided by the Society!  So the overall winners were no less than Chairman Tony's team who found more than seventy indigenous species and about twenty exotics.
Lunch was dished up next, and the poitjie, flavoured with ox-tail and choice beef apparently was very edible and the remainder kept the Jarvis household going for a week thereafter!  Vegetarians found a dedicated bowl of stir-fry and they were seen taking great draughts of air downwind from the meat poitjie as the flavours therein proved almost irresistible.
A note on this miombo woodland, we bought the land in 1992, from a neighbour and took down the fence and amalgamated the property with the existing home plot next door.  At the time of purchase the land had been severely abused, with horses kept there and their galloping up and down meant that ground cover was none-existent.  The miombo, almost a pure stand of munondo, with just a sprinkling of musasas was about half the height that we saw on the 22nd.  By allowing Nature to take over the management of the land, removing all alien invasives, such as ginger bush, cypresses, lantana, jacarandas, cherry trees and the like, the woodland recovered dramatically to become the very beautiful landscape that we saw that Sunday.
In January and February each year, the Jarvises run their famous Chameleon Safaris on Friday and Saturday evenings and literally hundreds of people come each season to see the new crop of baby chameleons that hatch about 5-6 weeks after the start of the rains.
Behind Tony and Teig in the photo left you can just see the industrial-scale retirement house that the Jarvises built so they could retire into it and almost immediately move out.  But it's a long story!
After lunch we were regaled by Bill Clarke with his interesting and somewhat risqué and relatively easy Quiz.  A great feature of the Tree Society is that there is virtually no eavesdropping of neighbouring team's suggested answers as our collective hearing has gone the same way as the fortunes we once had in the last Zimdollar era.  Blown away in the wind.  In fact the Bauhinia galpinii outside the new house was once adorned with an assortment of Reserve bank notes and called the "Money Tree" by our youngsters.
The Quiz was followed by a form of Bingo where Tony had prepared slips of paper with several tree names upon them and as he drew the names out of the hat, members could cross them off one by one until a the lucky few could cry Bingo and claim the prizes on offer.
Members were delighted to see Mary Lovemore amongst the winners of the Tree Bingo as she had earlier had the crowd listening in shock and awe as she was the only person who knew that a "dolphin in your bedside drawer" was in fact a sex toy.
I explained to the Tree Society that over the years we had planted some 200 trees on the two adjacent properties at Rockyvale and that there were a number of both indigenous and exotic trees on the original property when we bought it in 1980.  Since about 1985 we had planted only indigenous trees and many of these are now fully grown with full canopy that one would expect to see in natural habitat.  Prize specimens included the giant fever tree, up by the swimming pool which was only 30 years old and is rather cheekily claimed to be the "Biggest Fever Tree in the World".  Which it almost certainly isn't.
The adjacent plot which we bought in 1992 was at that time dominated by eucalypts in a dense stand where our new house is now and cypresses along the fence lines.  The eucalypts died as a result of that terrible drought in 1991/92 and we are still using firewood from them some thirty years later.   The cypresses were the very first things we chopped out and they dramatically opened up the space allowing the miombo woodland and adjacent grassland, to attain its full potential.
Not many of our groups noticed the trio of Adansonia grandidieri planted along Rockyvale Close.  These are quite tall and have been some three years in the ground now.  They will eventually make an avenue to match the famous grove along a dirt road in Madagascar of the same species that features so prominently in travel magazines.  With modern medicine, healthy food and lifestyles, some of us might yet make another 40 or so years to see these baobabs start to swell and attain the shape that makes the genus so famous.  We live in hope.  At one time I was trying to accumulate all the species of Adansonia and have them growing at Rockyvale, but then we found that they do so much better at Hillside on the rocky west-facing slope found there.  I am still missing two Madagascan species (A. madgascariensis and A. suarezensis), and the Australian one (A. gregorii) to complete the collection but these seed are very elusive.  However at Rockyvale there are specimens of the African genus(es) growing both in the ground and in pots as bonsai specimens and there were a couple of Adansonia rubrostipa from Madagascar growing as well in the ground.  Not many identified these trees during the scavenger hunt.
Tree Society Committee and Contacts
Chairman                           Tony  Alegria        tonyalegria47@gmail.com           0772 438 697
 Vice Chairman                   Rob Jarvis             bo.hoom52@yahoo.com            0783 383 214
 Honorary  Treasurer         Bill Clarke              wrc@mweb.co.zw                     0772 252 720
 Projects                              Jan  van  Bel          jan_vanbel@yahoo.com               0772 440 287
 Venue  Organiser              Ann  Sinclair         jimandannsincs@zol.co.zw        0772 433 125
Tree  of  the  Month         Ryan  Truscott     ryan.kerr.truscott@gmail.com    0772 354 144
 Secretary                           Teig  Howson      teig.howson@gmail.com                  0772 256 364
In our last Tree Life I covered some of the places we visited in the United States and last night I was shocked to see a short documentary on the wildfires threatening the Sequoias of Mariposa grove in Yosemite.  They even mentioned Big Grizzly a tree that almost everyone goes to see in the easy walk around the grove.  A shocking fact is that around 20% of the really giant sequoias have been lost in the last few years to a combination of wildfires and a fungal disease that is attacking some trees.  Probably both as a result of the effect of global warming.  Right now there are over 500 firefighters trying to control and limit the damage caused by these wildfires.
When we were in the United States one of the things we did first was to visit Yellowstone National Park.  We travelled quite extensively around the whole park, basing just outside and driving in each day.  Other than the hordes of visitors and the dense traffic moving them around, our trip was virtually trouble-free.   A week to ten days later, whilst we were in Yosemite, we heard news reports that parts of Yellowstone were completely cut off and impassable to any sort of traffic owing to massive unprecedented rainfall and subsequent flooding.  Roads and bridges were literally washed away.
We hardly saw any rain or adverse weather ourselves, just a little smattering of sleety snow and rain in Canyonlands one afternoon over the full 5 to 6 week period that we were there.
But it just shows that you must seize the moment and how luck can play a part in your visit to a tourist attraction.  A week either side could spell the difference between pure pleasure and total disaster.   As those of us lucky enough to have been Latin scholars in our younger days, carpe diem,  seize the moment.  A week after Sheila left Chicago, a mad shooter killed six people in the streets there and wounded many others.
For the record, we had nothing to do with causing the floods in Yellowstone, nor the fires in Yosemite and we have been nowhere near the fourth spate of floods this year in Australia.   And although both Sheila and I are are known as somewhat mischievous trouble-causers at times, we have nothing at all to do with what is happening in the Ukraine and Russia.  But it will impact us all, there is no doubt.
But given how the World is turning out at the moment there is probably no more apt a time to invoke the full power of carpe diem.  Do what you have always wanted to do and do it fast because we do not know what the future holds for us these turbulent days.
And if they really do start selling the Mosi-Oa-Tunya gold coins for ZWL/rtgs, be sure to snap up a couple!!!
Cheers,  Mafungi