TREE LIFE
December 2020
 Saturday 5th December.   National Botanic Gardens, 0830.  We will meet at the usual place, in the car park for a 1.30 hour walk in this beautiful garden.  We hope this month to examine the species:  Albizia.
We were delighted to be back on track after the long Covid lock down, it was good to see our muckers again.  There are still Covid regulations to be followed.  We were wearing masks and social distancing, the group was divided into two.  Tony has written up the story of the walk.
During the month we lost our vice chairman, Jim Sinclair.  Our heartfelt sympathies are with Ann.
Obituary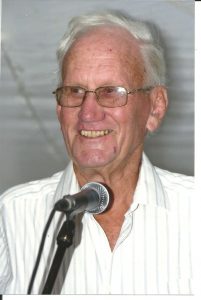 James McLure Sinclair 22 January 1938 – 16 October 2020
Over 100 people gathered at Wild Geese on Friday 23 October for a celebration of the life of Jim Sinclair and as testimony to his wide connections and status as a public figure.
Jim was born in Cape Town and grew up on the family farm, Albany in Melsetter. After Melsetter Junior School he went to Bishops College in Cape Town and later attended Gwebi Agricultural College. In 1965 he married Ann and they spent 5 years in the Umboe Valley working for Tim Riley before moving back to Serui Source my family farm.
In  1974 he made a brief but unsuccessful foray into public life by standing for the Rhodesia Party in the Hartley constituency. His commitment to public service was shown in his subsequent chairmanship of the Cattle Producers Association and in 1980 his election as Vice-president of the Commercial Farmers Union (CFU). On the tragic death of the chairman, David Spain, Jim became President of the CFU a post he held until 1983.
Jim's years as president were undoubtedly a sensitive and critical time for Zimbabwean agriculture. Jim was able to steer the CFU through this difficult period also managing to revive national farmers' associations which had closed during the war. In 1982 he was awarded the Rothmanns' Communicator of the Year award and a Farming Oscar.
After he stepped down as CFU president he served on the Railways Board and was Chairman of the Forestry Commission board, he achieved great success on the AMA as chairman of the Beef and Livestock committee where he negotiated with the EU to export our beef into these markets. He was awarded the Gold medal of the Zimbabwe Society of Animal Production for his efforts.
After retirement from public life, his life as a farmer on Serui Source came to an abrupt end in June 2001 when Jim and Ann had to leave the farm under the Land Reform Programme. Jim and Ann moved to Harare and ran a landscaping business with Bruce and Patsy Keevil.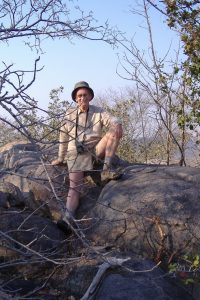 Connections with the Tree Society were mostly through  Ann's interest in trees and in recent years, Jim joined Ann on the Committee of the Tree Society. On 12 April 1992, the Tree Society AGM was held at the farm. Later, the Tree Society had two interesting and enjoyable visits to Serui Source farm in the late 90s and February 2001 and on a separate occasion there was a meeting at the farm with a group of visiting South African botanists as part of the Protea Atlas Project.
In more recent years, we were invited to see the trees around the Sinclairs' home in the Bridgeways Complex in Avondale.
One of the stories we were told at the memorial was of Jim falling into a slurry pit on the farm and having to drive back to the farmhouse in a disgusting condition. Unfortunately, a local Norton newspaper got hold of the story and published it under the title "Hook, line and Sinclair at Slurry Source Farm".
Jim will be greatly missed by his family, his many friends and his former colleagues in farming and business circles.
I am grateful for the obituary by Ben Gilpin from which I have obtained most of the details of Jim's life.
-Mark Hyde
November 2020 Tree Outing to National Botanical Garden.
 The first tree outing since Covid-19 reared its ugly head took place on Saturday morning 7th November 2020 with 12 members attending. It was great to see everybody again and a big welcome to Dean Berry who we haven't seen for a few years on any tree outings due to his work.  A surprise visitor was Mary Lovemore who did her own thing whilst the rest of us split into two groups to keep the numbers down in each group.  Mark Hyde led the one group whilst I lead the other which comprised Jan van Bel, Werner Fisbeck, Dawn Siemers and  Dean.   In the other group were Mark Hyde, Meg Coates Palgrave, Jim Dryburgh, Ryan Truscott, Peter and Frances Morris,  Marina came much later.
What follows is what my group did on hat hot, sunny morning. First off was a look at the Ficus ottoniifolia which had very few figs – some were ripe and no one tried to taste them not really knowing if all figs are edible. Next to be seen was the Ficus usambarensis with its large number of small warty figs on stalks. Interesting thing about this fig is that the branchlets are very thick and the leaves crackle when folded. I'm always amazed at how a green leaf can crackle as if it were a dry leaf! The other fig we looked at was Ficus dicranostyla which was loaded with small yellow figs. All the figs mentioned are exotics with their southern boundary being Zambia.
On the way to view the Strophanthus and giant bamboo, we looked at a Madagasgcan tree with large white flowers and a weird looking fruit at the entrance to the Desert House.  The Strophanthus kombe was in full flower and now had small young leaves.  We then examined the leaves of the Moringa oleifera growing nearly.  We found that little sections of the leaves were once or twice pinnate whilst most of it was tri-pinnate and f0und one bit which was quad pinnate or whatever its called.
We then headed off to the trees near to the Herbarium and saw the Delonix adansonioides en route. Although it doesn't look anything like the Delonix regia, Flamboyant, it is in the same genus due to its similar looking flowers and leaves.  Nearby was the rather big Albizia schimperiana which had almost ended flowering. The Cassia ferruginea was spectacular as it was almost in full flower.
And then it was time to go back to the car park but we had a quick look at two of the pink jacarandas en route and noted that there were still some buds and young flowers – also something I had never seen before – pods.
Tony Alegria
Albizias in Harare
According to the book "sappi tree spotting  What's in a name? by Dr Hugh Glen", the name Albizia is named after Filippo degli Albizzi, who introduced a species of this genus to European horticulture in 1749. Apart from the Albizias which are indigenous to the Highveld that grow in the Harare area, there are many other Albizias,  most of which are indigenous to Zimbabwe also to be found as garden or street trees.  The trees indigenous to Harare are mainly found in woodland with Albizia antunesiana and Albizia amara being the two most common species. However the Albizia which is most commonly grown in Harare, as a street or garden tree, comes from the Eastern Highlands. This is the Albizia gummifera. Smooth-bark flat crown which has twice pinnate leaves with almost rectangular leaflets with the vein running from corner to corner. The flowers have red staminal tubes with the red stamens protruding from the top but there are also some white flowers without the staminal tube – these look pretty short with a mass of white stamens that can clearly be seen below left.
The other Albizias which sort of have similarly sized leaflets are fairly easy to identify as their leaflets and flowers are all different.  It can be clearly seen that the flowers of the two Albizias below do not have staminal tubes. Albizia zimmermannii ( Zambezi  Valley) on the left and Albizia schimperiana (Eastern Highlands) on the right were both photographed at the National Botanical Garden.   Whereas the A. zimmermannii  has symmetrical leaflets, the A. schimperiana  has  asymmetrical leaflets with two veins from the base.
The fourth is the Albizia adianthifolia. Rough-bark flat-crown with its distribution also mainly in the Eastern Highlands. As can be seen below, the flowers are white, a few don't have staminal tubes but the majority do have. The leaflets are sort of rectangular but not nearly as much as those of the A. gummifera.
The only known Albizia adianthifolia in Harare is a garden tree at 209 Second St. Ext.  The  other Albizias that can be seen in the National Botanical Garden apart from those two already mentioned are: A.amara, A.harveyii, A.anthelmintica, A.antunisiana, A.gummifera, A. glaberrima, A. versicolor and A. coriaria – an exotic from Zambia.
For detailed information on the indigenous Albizias south of the Zambezi River, refer to the book by Keith Coates Palgrave entitled Trees of Southern Africa which has been revised and updated by Meg Coates Palgrave. At the beginning of the Albizia section, there is a dichotomous key to help you identify all the species that are indigenous to Southern Africa.
Tony Alegria
Tree of the Month — 'Old Tree Giant' of Mutare
Throughout my life there has been a tree that anchors me to a place.
Growing up near Mutare in the eighties and nineties, it was a Msasa, Brachystegia spiciformis. It stood at a bend on the dirt road that led to our house. Its thick strong trunk and well-rounded crown were pleasing to the eye, and its lime green spring foliage was a miracle of nature during the height of the dry season, and a symbol of hope in the devastating drought of 1991.
Later, when our family moved to a house in Mutare, our anchor tree was a Giant forest fig, Ficus rokko.
It stands along Sterculia Avenue in the city's Murambi suburb.
It's like a tree from a story book, which is why it attracts attention.
Sure, much of the attraction is to do with its size. But it's also to do with the way its trunk is fluted by countless fused aerial roots, providing hand grips and footholds for young climbers.
When we moved to Harare a few years ago, my daughter was delighted to find a worthy substitute — the F. rokko that stands in the centre of the National Botanic Gardens. It was like meeting the twin of a close family friend.
Both our children grew up clambering in the branches of the Mutare fig, getting stung by bees on numerous occasions.
They were just the latest generation to do so.
My friend and former classmate Carla — now in the UK — remembers how she and her brother spent afternoons climbing the same tree.
But it's not just children who are attracted to it. Flocks of silvery-cheeked hornbills gather in its crown, bleating and honkinglike winged vuvuzelas, and baby vervet monkeys from the local troop grow up tumbling about in its shade.
Tourists and visitors come too, and park their cars underneath it and take pictures and videos. They are invariably led there by guide books and stop at the first great tree they find.
But in fact they're looking at the wrong one.
The one they should be looking at — and the one that guide books refer to — is just 100 metres away as the hornbill flies.
It's the F. rokko that grows on Oak Avenue, just around the corner and up a bit of a hill.
It's three times the size, with a magnificent overarching canopy.
In his book Historic Trees of Zimbabwe, Lyn Mullin says the aerial roots of this behemoth at one point enveloped a discarded piece of farm machinery (a maize sheller) that was later removed "complete with encircling roots" to the safety of the Mutare Museum.
The tree on Sterculia Avenue could well be the offspring of the one on Oak Avenue.
Such a tree could have inspired the poem 'Old Tree' by Chris Magadza: "Old tree giant towering above the forest… silent, timeless in ageless majesty, sleepless guardian of mysteries old."
But these Giant forest figs also play a pivotal role in the wild.
Earlier this year I was privy to a conversation between two prominent birders, which included tantalising details about "ancient aerial pathways" and "super flocks" of silvery-cheeked hornbills.
The assumption was that fruiting fig trees could sustain hungry hornbills in their wanderings after the breeding season. The birds have been spotted as far south as Chikwalakwala and the Limpopo in the south-eastern lowveld.
On my last visit to Mutare I noticed that at least two young Ficus rokkos had sprung up in the vicinity of the parent tree on Sterculia Avenue.
A hopeful sign that when this "old tree giant" is gone, there will be others to take its place.
Ryan Truscott
 TONY ALEGRIA    CHAIRMAN