TREE LIFE
March 2019
MASHONALAND CALENDAR
Saturday March 2nd:     Botanic Garden Walk.  We will look at trees in the Medium Altitude Rain Forest. Join us for a 1.5 hour walk; we will start at 08:30am from the usual place – the car park.  You don't have to be a member to join this informative and enjoyable walk in this beautiful garden.
Sunday March 17th:  We will be visiting Henry Hallam Dam again.  This is a really interesting venue with lots to see.  It is also a very pretty venue.  For those wanting to share lifts, meet at Mukuvisi car park for a 0900 take off.
Saturday March 23rd:  We have been invited to Bridgeways again, the property where Ann and Jim Sinclair live.  This is a delightful venue and there is much to be seen which was not seen on the last visit.
Harare Botanical Garden walk 2 Feb 2019
Nine people had arrived for our monthly walk in the botanical garden. It was a warm welcoming after Christmas holidays and times of fuel shortages which had made us cancel some planned outings. Tony, our chairman, had mapped out a route that was going to show us several Ficus species.
We took the main path into the garden. This time we didn't even look at the Ficus trichopoda, swamp fig as we all know now that it is the first tree that springs in the eye on entering the gardens. So we knew it was there and probably still there. A little further we stopped at a Ficus dicranostyla, usually a shrub or small tree at home in tropical Africa, not further down then Zambia. This specimen is a medium sized tree branching quiet low down, while they usually have a straight bole going high up before branching.
We crossed to the path at the right edge of the park to be shown a smaller fig tree with a slender stem. Tony told us that Mark recently identified it as Ficus ottoniifolia (macrosyce). Interesting we thought. But then a few meters further we saw a second one and this one really wanted our attention and made it clear why we were brought here. A profusion of ovoid figs, dark green in colour with white dots was decorating up the stem and branches of this small tree.
Going back to the main path, direction restaurant, we passed the two small trees with the vicious branched spines, that have eluded us in identifying it. But for the first time in years we trapped them having flowers on one tree, and fruits the other one next to it. Very likely this was a female and a male tree.  Meg was now getting closer to confirm that it is Flacourtia and not Scolopia because of the hairy petiole. The question remains as to which species. As it is planted in the foreign section it could possibly be Flacourtia jangomas, Indian cherry, from Asia, which differs from our Flacourtia indica, governors plum, which has pubescent (hairy) leaves and short pointed acute apex. The Jangomas species is known for its vicious compound spines and has hairless leaves and acuminate apex.
Moving on we passed under a Spathodea campanulata, flame tree or African tulip tree. It was infested with spittle-bugs which had wet the ground under the tree. For once we could see the bugs on low hanging branches. It was now very visible what was causing these pools, which we encounter even in the driest of seasons and mostly associate with Philenoptera violacea, raintree. Meg identified the bug as Ptyelis grossus, rain-tree bug. Google-ing for spittle-bugs I found that there are 35 000 different species. Who would risk to pick a tag out of such a collection? While several trees are known to "rain" sometimes like Quinine tree, Peltophorum, even Acacias, we now went to look at our own African rain-tree, Philenoptera violacea (was Lonchocarpus capassa). Here we did not see any sign of raindrops. So maybe it's not the right time or weather for this tree.
Back to the figs. We had passed Ficus bubu with very smooth bark, big leaves and strong midvein . We brushed against the sandpaper fig, Ficus capreifolia and saw Ficus chirindensis now overloaded with fruits on the trunk and branches. Figs on stems as long as 4 cm . On arriving at a group of Ficus bussei we found one of the trees having split in the middle and fallen to the ground. We were made attentive of the overlapping cordate leaf base as a differentiating characteristic of this species. The chain sawed logs invited us for a rest.
On our way to another fig tree, which identification has eluded us, we passed at the Tamarindus indica, which was now flowering again. This tree always arouses some interest and some of us who missed the flowers last year took the opportunity now. Arriving at the fig tree, we were lucky to see it fruiting. The small figs were sessile, green with small white dots. Both leaves and figs hairy. It could have been Ficus glumosa, but for the shape of the leaf which was elliptic to oblong. So we will keep on looking at its development and Meg took a sample for homework.
The walk hadn't been long or tiresome and everyone congratulated Tony with the well planned and interesting tour.
-Jan Van Bel
Tree of the month: the 'Shower Tree' of Harare
Our tree of the month is the African Flame Tree, Spathodea campanulata. It's vivid orange flowers set against a dark green crown are unmistakable. They have provided quite a show in February along Sam Nujoma Street from Harare's city centre north through Belgravia.
 Shades of Harry Potter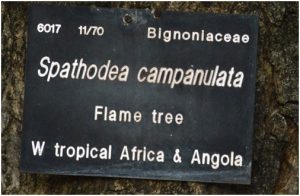 I may be wrong, but most Zimbabweans only know these trees as Spathodeas, and the English names aren't widely used. Consequently, I had always believed the tree was an exotic introduced from Asia. But African it is, with a distribution from Ghana to Tanzania (in West Africa it's known as the Baton du sorcier apparently because of its use in what Harry Potter would refer to as 'the dark arts'.
The Spathodea was evidently popular with Zimbabwean town planners and has been widely planted as a street tree. But they overlooked a major flaw: the trees are partly deciduous and often during the blistering heat of October, just when deep shade is most needed, they don't have leaves (surely our indigenous Natal mahogany trees would have been a better choice).
Alien invasives
 There's another reason the Spathodea isn't universally loved. In places like Sri Lanka and Australia it's become an invasive species. It's easy to see why: the delicate seeds, encased in light film, are easily spread by the wind. That said, the Flora of Zimbabwe website notes that there is only one known naturalised specimen growing at Aberfoyle in the Honde Valley. So, Spathodeas spreading as alien invasives is not something we have to deal with here, thankfully.
Toy boats & water pistols
Despite its drawbacks, the tree does redeem itself by getting a profuse crown of green leaves, and spectacular cup-shaped flowers that catch the light and seem to set the tree ablaze.
It has two other appealing features: the old brown pods make excellent toy boats, and its branches play host to a very curious bug. I used to think that the water dripping from the tree was from the flowers. After all, the velvety buds are filled with moisture that I learnt only this month can be squeezed out in a jet to rival any water pistol. But, in fact, the really intense dripping comes from the Raintree spittle bug.
The 'shower tree'
Look up into the branches and you're sure to see clusters of white foam. These bugs (Ptyelus flavescens) are related to P. grossus — the ones that give Zimbabwe's famous Rain tree, Lonchocarpus capassa its reputation. The nymphs suck sap from the branches for nutrients and produce a foam to shield themselves from the sun and predators while excreting almost pure water. During the society's monthly walk at the national botanic garden in early February I finally got to see what these bugs look like up close. On a low-hanging Spathodea branch near the tea room the bugs were just emerging from their larval skins. They looked like tiny bright yellow cicadas. Nearby was another Spathodea which Tony Algeria, our leader that morning, called the "shower tree" as the moisture was raining down. This made me wonder about the Spathodea's other English name: the Fountain tree. Could it be a reference to the dripping caused by these bugs? It's time we started calling Spathodeas by their colourful common names, which give an insight into some of their unique features.
-Ryan Trustcott
Tree Society Outing to Christon Bank Sunday 17th February 2019.
This was Jim and my first visit to this venue and we were looking forward to it having heard so many good reports about it.
We merrily drove to the end of the tar as per the directions to find no car park and a very rutted track ahead, two cars followed. So we turned round and a few metres back saw some heads among the long grass. The car park is off to the right before the end of the tar!
There were eventually 12 of us and we were treated to a great morning walk led by Tony.  Anne Butler, Teig Howson, Marilyn Dickinson, Ryan and Jan made up a knowledgeable core.   Newcomer Sally was a welcome addition with Richard and Sara also being present. As usual Jim brought up the rear. Ian Riddell was a great addition with his knowledge and photography. See Tree Society Facebook page.
This is a completely unspoilt rocky area with wonderful trees.
Our first tree was a very spindly, rather gnarled Strychnos spinosa, leaves with three veins from the base with curved thorns, a single large fruit which was light green, round and hard.
The False Medlar, Vangueriopsis lanciflora is a small tree with simple oblong leaves paler on the undersurface which are very hairy, the branchlets often powdery reddish brown. Next to it was the Vangueria infausta with paler green leaves hairy on both sides.
Euclea natalensis the hairy leaved guarri a small to medium sized tree with tough leathery leaves, elliptic, glossy dark green above and pale rusty hairs below.  The margins are wavy. Juice from the boiled roots is used for dyeing palm mats black. Twigs are used as tooth brushes.
Commiphora africana the bark is grey to green smooth and succulent exuding a gum if damaged. The larvae of the beetle Diamphidia feeds exclusively on this tree from these the Bushmen make their arrow poison. Thus it is called the poison grub Commiphora.
We came across an Uapaca kirkiana the Mohobohobo, with its edible fruits. There was an orchid growing on the bark.
The dominant species is the Monotes engleri, there were many medium to large trees growing among the rocks, they were in full fruit.  The fruit is spherical surrounded by 5 persistent sepals pink to reddish when young drying to pale brown.
Clerodendrum eriophyllum. Hairy tinderwood,  normally a small tree with leaves mostly in whorls of three. The flowers are white with long stamens, hence the name white cats whiskers. The leaves when crushed have an unpleasant smell.
Also seen were: Vernonia colorata is star flowered, a good garden plant but is frost tender. Combretum molle with its soft leaves. Searsia tenuinervis, has a long petiole and three sessile leaflets, toothed towards the apex.  Uapaca nitida with long petioles and slender leaves. Faurea saligna with blue gum like leaves. Rhoicissus revoilii a small shrub which is free standing. Flacourtia indica in new leaf.  Albizia antunesiana with bipinnate leaves. Margaritaria discoidea. Protea angolensis with broad leaves and white flowers. Dichrostachys cinerea with flowers like Chinese lanterns, pink and yellow. Ochna puberula found in rocky outcrops, known as the peeling Bark Ochna. Catunaregam spinosa the Thorny bone apple with decussate thorns and leaves. Senna singueana the winter flowering cassia. Sterculia quinqueloba a very young tree with very large leaves. Psydrax livida. Allophylus africana. Flueggea virosa the snowberry, with white berries. Celtis africana. Commiphora marlothii  growing in the rock. Turraea  nilotica the honeysuckle tree with curled leaves.
Also in the area were: Ochna schweinfurthiana the brick-red Ochna. The fruit is shiny black drupes on a large receptacle surrounded by brick-red petal like sepals.
Ozoroa reticulata, the Tarberry tree. The fruit is kidney shaped, flattened, wrinkled and black when mature looking like dried raisins.
A large leaved Terminalia either mollis or stenostachya?  Craters in the corky branches distinguish this as stenostachya.
Pouzolzia mixta a shrub or soft wooded tree with large leaves rough above which will stick on your clothing! The leaves are cooked to provide a green vegetable.
Indigofera rhynchocarpa. Hockey sticks with a distinctive small pod, reddish brown cylindrical except for the tip which hooks upwards like a small beak.
Pavetta schumanniana, the poison bride pavetta.  Flowers in compact auxiliary clusters. This plant is poisonous to stock characterized by acute heart failure. We lost goats who ate this bush!
Pterocarpus rotundifolius an imparipinnate leaf with a large rounded terminal leaflet, a tall tree which comes out in a mass of yellow flowers after the rain, they last a very short time, but are spectacular
Swartzia madagascariensis the snake bean tree. A small to medium tree with a gnarled trunk the pods are cylindrical, indehiscent and a dark brown.
Elephantorrhiza goetzei with Acacia like leaves with 14 to 41 pairs of pinnae and 20 to 48 Pairs of leaflets. It has very long pods that split but the rims remain on the plant as long woody threads.
We saw a single tall Muwanga tree, Pericopsis angolensis, with large galls or bumps along the trunk. The wood is attractive, hard, very durable and used in furniture making. It is also termite proof and used for fencing poles. If you stop at Lions Den on your way to the North, the tables in the Café are made of  Muwanga. Once we ascended above this tree onto a rocky area we came across: Hymenodictyon floribundum the fire bush. Combretum zeyheri the large fruited combretum growing among the rocks. Kirkia acuminata and Dalbergia nitidula with spiny galls along the trunk, the young fruit has been deformed by insects.
On the way back we saw Diplorhynchus condylocarpon, the Horn pod. This tree has a very sticky latex which was  used to mend a cracked sump by Fred Eyles,  when he was stuck in the bush. Fred was one of Zimbabwe's early botanists.  The fruit is of paired carpels like horns
Cussonia arborea a very distinctive tree called the Octopus cabbage tree. Leaves are palmate, compound with 5 or more leaflets. Flowers in terminal groups of slender spikes like octopus arms.
It was a perfect day for botanising among the granite rocks of Christian Bank. We all gathered round about midday and enjoyed a picnic lunch under the trees.
-Ann Sinclair
Obituary David Bertram Hartung
Dave with Makabusi, the elephant that grew up at Makabusi Woodlands and as a young elephant was handled a lot by Dave. When he was reaching maturity Makabusi was then sent to Imire. It was a very tender reunion when the Tree Society visited Imire two years ago and Makabusi the elephant obviously recognized Dave.
David Bertram Hartung was born on 29th of June 1932 in Umtali.  His mother was Isabel Sarah Coleman, from one of the early pioneering families in Rhodesia. His father, Llewellyn Bertram Hartung came from Grahamstown, where his family was involved in building various churches.  David's father came up from South Africa to work on the mines in Rhodesia, trained as an electrician and then went to work for the P.T.C.  He was involved in surveying and raising the telegraph line from Harare to Karoi and hence David spent his young life camping in the bush with his parents.  His mother taught him in the morning and the afternoons were spent with her and her .22 rifle out in the bush, developing early on his lifelong love of all things natural.
Only when David was eight did he start formal schooling at Saint Georges, where he met his lifelong friend Tristan "Tich" Russell.  His mother's tuition up to that time had stood him in good stead, as he was two years ahead of his age group for the rest of his school career.   His ability to learn was prolific and as a result he took his Cambridge O level examinations at the young age of fourteen.  As a result of his academic success at school he was rewarded with a bursary for his tertiary education at UCT in South Africa.  David did not enjoy his first year at university, probably due to his extreme youth and  left UCT without completing his degree in engineering and chose rather to take up a trade in fitting and turning, where he also met and befriended Tony Donkin.  This seemed to suit him a lot better and he ended his apprenticeship armed with a City and Guilds certificate, and went to work for Drinkwater's in Mutare.
Sometime in his teens he had met his other great friend, Rafe Bates, with whom he became involved in motor racing, initially tuning engines on Rafe's cars but soon racing himself and developing a great enthusiasm for MG sports cars.  Around this time Rafe was opening up Devon coffee farm in Chipinge for Tich Russell, but when he had to leave to help on his wife's family farm, Tich asked David to join him in his quest to get the farm and coffee processing plant up and running.  This David did and spent from the late 50's to the early 60's enjoying the then Rhodesian  farming life.  It was during this time that David and Olwen met and they got married in 1961.
David and Olwen were holidaying in the UK in 1963 when David was offered a job at the MG Car Company near Oxford. As he had owned at least three different MG's himself he accepted with glee. He stayed with them for seven years, becoming Chief Process Planner of the production plant.  During this time he was able to take several courses and gained valuable experience towards his eventual engineering qualification.  But his home country was calling him and in 1971 David and Olwen, now with two children in tow, returned to Harare.
Back home David and Tony met up again, resulting in David joining Tony's Load Engineering as a Director and Chief  Engineer.  He spent the rest of his working life designing and supervising construction of many, many pieces of equipment that contributed to the development of various industries in this country.  Through this work he in due course submitted projects to the Zimbabwe Institution of Engineers and was made a Fellow, thus becoming a fully qualified engineer without ever completing his degree.
From the time he returned to this country David became very involved in the environment, joining many societies, such as constantly developed his favourite hobby, photography, visited all areas of the country, contributed to conservation and education in that field, helped to bring Mukuvisi Woodlands into being and guided and taught guides there for many years.
-Olwen and Megan Hartung
David Hartung
I first met Dave in the mid-1980s and the connection was the Mukuvisi Woodland. If I remember correctly, Dave was a guide and used to lead regular walks there for visitors and tourists, some of which I attended.
Indeed, many of my first tree names were imparted by Dave. He had a remarkable knowledge of the Bush and was an excellent all-round naturalist which of course made the walks so interesting. I understand that as a child at one time he lived not far from the Woodlands and spent many a happy hour exploring the area, so he knew it well and was able to interpret and make interesting what we were seeing.
Dave's involvement in the Tree society increased considerably about 10 years ago and he started regularly attending our local and more distant outings. His arm was twisted (he said he was a reluctant Committee man) and he joined the Tree Society Committee in 2011.
Dave and I always got on very well; in particular, there was never a shortage of subjects to discuss. If he came to my home, conversation was likely to go on for a very long time. He would then suddenly recall he was meant to be somewhere else (e.g. for lunch) but as he pulled out of our gate in his green Land Rover he would think of just one more thing to talk about and we would end up talking for another half an hour outside the gate.
Having said that, Dave usually arrived early for everything. If there was a Committee meeting set for 9 am, at around 8.30 am, there would be a hoot at the gate and it would be Dave, often bringing an interesting plant specimen or photograph.
Dave was no technophobe. As we know he was keen and deeply knowledgeable about photography. Nikon was his favourite brand, but he would occasionally, reluctantly, admit that Canon cameras were not too bad. Furthermore, he was also a keen Apple computer user. His view was that you bought the best equipment in order to get the best results. He was certainly a convert to digital photography. He was not the sort of person to adopt a scatter gun approach to taking pictures which is so easy with digital; he had a much more 'forensic' approach to photography, considering the camera settings carefully and taking just one or two images.
One  surprising fact about Dave was that he was fluent in French. As far as I know he never spent much time in a French-speaking environment, but he explained that he could 'think' in French. This was confirmed when I was visited by a Monsieur Francis Lagarde and he, Dave and I went on a trip together. Dave and Francis chatted away in French and Francis asked Dave how he had learnt "such good French". It was a great relief to me as I had previously been struggling to communicate with my limited 'schoolboy' French.
Dave became very interested in how the Latin names of trees should be pronounced. He came up with some rather strange ideas. For example, the subfamily of legumes, Caesalpinioideae (which includes such well known trees as msasas, munondos and mopane) which I would have pronounced with a soft 'c' and an 'ee' should, he reckoned, be pronounced with a hard c and a y sound, i.e. 'Ky' salpinioideae. And who's to say he was wrong?
To sum up, Dave was quiet, serious, gentlemanly and scholarly with a wide range of interests. He will be greatly missed.
-Mark Hyde
……..AND A WHEEL BARROW FULL OF SURPRISES …. Apologies to Alan Alexander Milne
The Tree Society, the Wild Life Society, the Photographic Society of Zimbabwe, the Mukuvisi Woodlands Association and many many other friends of the wilds of Zimbabwe lost a friend on 4th February 2019 when David Hartung passed along to better climes.
Dave, will always be remembered as a sort of "spider man" with his cameras, lenses and all else needed for the job hung around his neck and always at the ready to capture everything from ants to elephants including arachnids, butterflies and every other creepy crawly.  The amazing thing about Dave was his ability to curl himself up into almost impossible position in order to photograph whatever he was photographing, but more than that he was able to uncurl himself again with no difficulty at all, right up to the age of 85.  I was always greatly envious of this amazing agility!
Sadly I only got to know Dave a few years ago when I joined the Tree Society Committee.  This has been a great experience and hence the title of this short note "and a wheel barrow full of surprises."  No matter where we were or whatever the subject under discussion Dave could come up with an explanation, or history of, or a correction, it was fascinating.  But his great love was the origin and understanding of the background of tree names.  Dave was a scholar of note – everyone did not always agree with him but debates of this subject were always interesting. Tree Society walks were always full of interest and there was always good debate, not always very friendly, but none the less good debate – with no hard feelings at the end of it.
Dave's love of the bush and all things natural was nurtured by his parents who during his early years were laying the telephone line for the PTC from Salisbury to Sinoia and on to Makuti – this was the good life and his parents made the most of their opportunities of giving their children "a good life".  He was a brilliant scholar at St George's College, but really found school and all its limitations after his bush life a bore!  He excelled again at University of Cape Town.
Apart from his great love of "all things wild" and his passion for MGs. Dave made an outstanding collection of stamps – a hobby which he followed with a passion.  So Dave was able to come up with words of wisdom on a great many subjects and was always a great pleasure to be with when out in the bush on a walk.  And as his knowledge was so diverse, this otherwise quiet, unassuming man often surprised us – a real "Wheelbarrow full of surprises".
Dave, we will miss you greatly and we send our heartfelt sympathies to Olwen and all the family and friends who came under the umbrella of his love.
-Mary Lovemore
TONY ALEGRIA  CHAIRMAN