TREE LIFE
July 2018
MASHONALAND CALENDAR
Saturday July 7th:   Botanic Gardens Walk. Meet in the car park at 8.30am for an hour and a half in this beautiful garden.
Sunday July 17th: Paradise Pools.   This is a delightful destination on the Pote River where it enters the Arcadia Dam.  It is about 1.5 hours drive from Harare so we will meet at CABS Head Office car park at 7.45am for a sharp 8.00am start.  It is a beautiful drive there and we should see some spectacular aloes.  Don't miss this super outing.  Bring your picnic lunch, chairs, cooler bag, hats, sun block and be prepared for a fantastic day.
Saturday July 23rd: Visit to Ewanrigg which will be lovely at this time of year.  After paying at the entrance, we will meet at the far car park at 14.30.  Turn left after the entrance gate and drive up the road for about 500m, car park on the left.  To make a lovely day of it you could take a picnic lunch to have before the walk, or have a meal at the restaurant which serves good traditional meals at a very reasonable price.
CHAIRMAN'S REPORT FOR THE YEAR 2017-18
I have pleasure in presenting my third annual Chairman's report of the Tree Society covering the year 1 April 2017 to 31 March 2018.
The regular Tree Society series of monthly outings continued and we managed to organise nine 3rd Sunday outings although three of them were weekend outings. It has become increasingly more difficult to organise outings to gardens resulting in Mukuvisi being used more often as a Saturday afternoon destination.  If you have a suitable garden or know of a friend who has one and doesn't mind us coming along, kindly let your committee know.  The supply of tea and buns by the host is not mandatory but nonetheless very welcome! Ten of the 4th Saturday walks also took place during the year. We also have a regular tree walk on the first Saturday of the month at the National Botanical Gardens. The outings are summarised in the table below.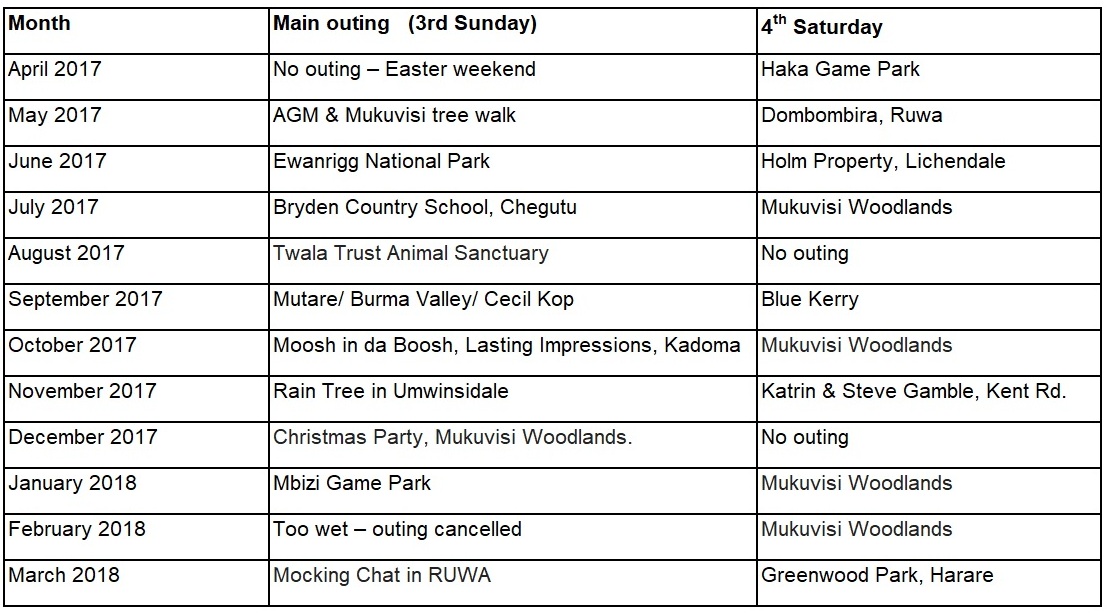 Weekend Trips:  In addition to the regular monthly outings, there was a week end trip, to the Bvumba from 5th to 8th May. The idea for this trip came up during the Humani Ranch tree weekend held the previous September 2016. Tempe van de Ruit's idea was to have a much more active Tree Society expedition to the Vumba by dividing the members into two  groups: one for the serious botanists, the lame and the more aged, and the other for the more energetic souls who would do a good long walk, admiring the trees and the views.  Then the two groups would rendezvous at a given point.  The idea was taken up enthusiastically and we had 26 participants on the trip. Very well done to the organisers – Mary Lovemore and Tempe.
We then had another trip to the Eastern Highlands from 16th to 20th September, 2017.  About 15 Harare members joined up with the Easterners for a weekend of botanising. Thanks to John Meikle and Mary Lovemore for organising this trip.
In October we had an outing to Lasting Impressions located just below Claw Dam just beyond Kadoma. Moosh in da Boosh was held 13th to 16th October and provided bush activities for the birders, the astronomers and the tree people who were all invited. In all some 50 people participated with some 18 members of the Tree Society being present.
All these trips are very enjoyable and if you have never been on one of them, you are seriously missing out!
Tree Leaders:  I would like to thank all those who have led in any of our many outings –  Saturday and Sunday mornings as well as the Saturday afternoons and on weekend outings.  Without you, we wouldn't have meaningful outings, especially outings away from Harare where the trees are not so well-known to the majority of members.
Tree Life: Isla Grundy has had a difficult year as editor of Tree Life due to her work load and she has also been publicist for the Society. Sufficient material has not been coming in and we have had a serious shortage of Tree Life content. Fortunately, Mary has been able to come up with interesting material from past newsletters.
Thanks to those who contributed write-ups on our outings and articles for Tree Life – in order of appearance: Mary Lovemore;  Meg Coates Palgrave; Jan van Bel; Tony Alegria; Jenny Mackay; Zilla Batchelor; Mark Hyde; Phil Haxen (20th April1986); John Bennett; Kim Damstra(Feb 1987);  John Lawrence; Dave Hartung; Ann Sinclair; Dawn Siemers; Isla Grundy; E.B. Best (August 1979); Teig Howson   and apologies to anyone I may have left out.  In the last year I feel that Mary Lovemore and Jan van Bel made the most contributions – many thanks.
Bequest: In early November 2016, we were asked by Jono Waters to manage a bequest by the late Mrs. Lottie Gyde for the National Botanical Gardens.  Most of this money was spent on the water system to try a keep as many trees alive as possible.  The rest will be used on the tree labelling exercise which has now some 300 trees labelled. Unfortunately we don't know them all and have to rely on Chris Chapano, who is a very busy man, to identify them – thus the slow progress.
Finances: The financial position of the Society remains satisfactory. The accounts and balance sheet have been prepared and will be presented by Bill Clarke later on this morning.
Tree Society Facebook group: The group has shown an explosion of membership from 82 members in May 2013 to 3051 members on 30 April 2018.
Scanning back numbers of Tree Life: This exercise in re-typing Tree Life(s) from 1994 and earlier years is being undertaken by Mary Lovemore. Eventually, these will appear on our new website. Many thanks for Mary for undertaking this mammoth and time-consuming exercise.
Tree Society Web page:  At last, the new web page is under construction and will be available shortly.
Herbarium fumigation: Fumigation of the National Herbarium was carried out twice in the last year by Fumigation Services.
Christmas Party: Unfortunately we were unable to go to Val d'Or last year and consequently held the party at Mukuvisi Woodlands. However, the date clashed with other Christmas parties and we ended up with less than twenty participants.  I gave a presentation on Moosh in da Boosh and I thank Adele Hamilton-Richie for compiling and running the General Knowledge quiz.
Membership: As at 31 December 2017, we had 123 members, comprising ordinary, external and honorary members.
Committee: Since the last AGM, there have been no changes. The current committee consists of the following seven people: Isla Grundy, Bill Clarke, Teig Howson, David Hartung, Mary Lovemore, Bilal Khatri and myself. My sincere thanks go to the members of the Committee for their hard work and support. A big thank you to Mary, she has done the most work in the past year for the Society.
In conclusion … The Society is in a strong position in terms of its finances and its membership.
2017-2018 was a successful and active year for the Society. Long may it continue!
–  Tony Alegria Chairman
OUTING TO Mazowe Springs 28th April 2018
What a super afternoon everyone missed on Saturday when Barbara Kockett was our hostess – the weather was stunning and the botanising fun.  There were only four Tree Society members as part of the group but various residents at Mazowe Springs joined in as well.  Apart from a most pleasant walk botanising around Mazowe Springs we also had a fabulous tea – koeksisters, cheese scones, sandwiches, cake et al.
Below is a list of trees recorded around the gardens at Mazowe Springs and we are grateful to Barbara for making this list for us. She has added the pages of the Tree of Southern Africa (Van Wyk and Van Wyk) to each one because she finds it helps her to look it up and compare the picture in the book with the tree she is observing. Thank you Barbara for all your efforts.
 – Mary Lovemore
Trees at Mazowe Springs – 28th April 2018
Pond Area  Antidesma venosum– Tasselberry;  Pittosporum viridiflorum – Cheese wood; Wild Olive;  Syzygium cordatum – Water berry; Diospyros lycioides – Blue Bush; Acokanthera oppositifolia – Common Poison-bush;  Dais cotinifolia – Pompom tree; Teclea nobilis –similar to the Natal Cherry-orange but found in Eastern Highlands of Zim;  Acacia galpinii – Monkey thorn; Virgilia oroboides – Blossom tree (I wrote this name down but not sure if we saw it?); Ficus ingens – Red-leaved fig;
Beyond pond area Acacia polyacantha – White thorn; Acacia nigrescens – Knob thorn; Calliandra – Powder puff;  Bauhinia – small white flower;  Pitanga Cherry from S America;  Ziziphus abyssinica –Jujube; Ficus thonningii – Common wild fig;  Ficus lutea – Giant-leaved fig; Mystroxylon aethiopicum (Cassine aethiopica) – Kooboo berry;
Aggie's garden Vepris lanceolata (V. undulata)-White ironwood;  Cordyla africana – Wild mango;
Nicky's garden  Rhamnus prinoides – Dog wood;  Croton sylvaticus – Forest fever-berry;
Near compost
Dovyalis – Kei apple
– Barbara Kockett
OUTING TO HIPPO POOLS 20-22nd APRIL (cont'd)
ARRIVAL FRIDAY 20TH
As we were only to arrive at Hippo Pools Wilderness Camp after 2:00pm, we decided to leave Harare at 10:00am and botanise once we passed the double gates at Umfurudzi Safari Area.  However, whilst we were on the tarred mine road, we collected samples of what we thought was another species of Pterocarpus which had P. rotundifolius-type fruit but had at least twice the number and smaller leaflets than what we were used to seeing. When we reached the National Parks entrance we paid for four pensioners and a 4×4 vehicle.  One wonders why a 4×4 vehicle costs more that a normal vehicle, after all we would be using the same roads and being a bit higher up didn't lead to more animals being seen.
Once we crossed the double gates, we went very slowly and recorded every tree or plant we could identify from the vehicle – occasionally we got out to have a closer look but we only looked at trees no more than 5 metres away from the road.    We came across a tree which had big dark green leaves, rough bark and a lot of fruit and thought it could be an Euclea natalensis but found the fruit was too big, so we collected some of that too.
We also collected samples of a tree which had many berries and smallish leaves.  In fact, on the way in, we saw many of these last two trees and also saw many Terminalias, Commiphoras, Mopanes, Mufutis, Catunaregams, Acacias etc.
Most Catunaregams are normally knee to waist high, but we came across one (see photo below) that looked like a tree and was in fruit.
We had our lunch in a Mopane patch and did very little botanising thereafter as it was now getting close to two o'clock.  In all we saw 44 different trees on the way in and as all of these were seen by the two groups on Saturday and Sunday, I will not list them here.  The only outstanding unknown tree was the Pterocarpus sp. which was not identified before we went home.
Once we arrived and were booked in at the camp, I showed Meg and Mark the samples and they both wanted to see the trees from which we had collected the samples. So the next day during the lunch time break we took off to see these trees.  However we only found the one tree which looked something like a Euclea – it turned out to be a Diospyros kirkii.
– Tony Alegria
From the Tree Society of Rhodesia Newsletter, 2 February 1978
The 1978 programme got off to a promising start, due to great good fortune with the weather, and much kindness and co-operation from friends who put themselves out on our behalf.
While more than an inch of rain fell over Salisbury on Sunday 15th January we were welcomed to "Duncombe", Concession, in glorious weather by our host, Mr. C. R. Fenwick and his daughter Wray.  The farm embraces an extensive kopje area of massive granite boulders, surrounded by red soils, a geological phenomenon on which Dix Airey of the Ministry of Mines could have commented knowledgeably to us, had he not been asked, about 24 hours beforehand, to take off in another direction on official business.  He would probably have been justified in 'taking off' figuratively as well, when the writer completely forgot to stop the bus on the way, to pick up a geological map made available by him especially for the journey; but a generous assurance has been received to the effect that all is forgiven, if not forgotten.
To nature lovers in Rhodesia the granite kopjes are a world apart.  When the rains have lent them a miraculous freshness, when they are clothed in infinite shades of summer green, when they are adorned with kirkiis, sterculia, commiphoras and 'mountain acacia' and studded with 'firebushes' (Hymenodictyon) showing just a hint of the burnished copper which will dazzle the eye in the late afternoon sun of March and April, there is, in them, a hint of paradise.
There was an astonishing variety of trees at Duncombe.  Apodytes dimidiata we last saw in the Marandellas area.  This, I must confess, I brought home from a recce of Duncombe for Mr. Drummond's confirmation.  I don't think we saw another on Sunday.  Albizia tanganyicensis was unexpected with its pealing bark and magnificent foliage.  It was last recorded by us on the kopjes near the Dichwe Lemon Forest.  Triaspis macropteron subsp. massaiensis, a handsome flowering mass of which was growing near the rock paintings, is usually associated with lower altitudes.  Uapaca nitida, the smaller brother of the Mahobohobo, Uapaca kirkiana, we have come to expect in the Mazowe Concession area and we were not disappointed. There was an impressive grove of both species.  It was one of many fascinating features of the walk.  There was another sudden change when Protea angolensis became the dominant species for a little while.  We do not often come across Heteropyxis natalensis, the 'lavender tree' although it is not rare.  We found it in some abundance at Calgary, Mazowe, a couple of years ago and we saw it again on this outing.  Both Monotes glaber and Monotes engleri were seen, and also Dalbergia nitidula with its purple heartwood. There were four Commiphoras, C. africana, C. marlothii, C. mollis and C. mossambicensis.  While they can be striking when stark and leafless, which they are for most of the year, they are very attractive right now in full leaf.  The lovely, white flowering Holarrhena pubescens, another species which is more common at lower altitudes, was unfortunately past the flowering stage, so was the 'violet tree' Securidaca longipedunculata, and the 'pink jacaranda', Stereospermum kunthianum.  Ormocarpum kirkii appeared once or twice, to keep us on our toes.  We don't come across it with marked frequency.
The Mukwa, Pterocarpus angolensis, was at its graceful best, with the immature pale green hedgehog pods blending into the foliage.  In characteristic fashion, Ficus natalensis, Diospyros natalensis subsp nummularia and Erythroxylum emarginatum chose the greyness of the boulders against which to display to best advantage, their dark green leaves.  Pouzolzia hypoleuca, the soap bush, with its whitish under leaf, occurred frequently for variety, and in a couple of places so did Brachylaena rotundata, with its similarly contrasting leaf surfaces.  Phyllanthus discoideus, now Margaritaria discoideus, was quite common, and, while name changes are fresh in mind, Pavetta assimilis, now Pavetta gardeniifolia, was also there.  So was P. schumanniana.
Zanha africana seemed to like the environment and there was a particularly good specimen in the higher reaches of the morning walk.  The Muhacha trees, Parinari curatellifolia, were rather stunted, as they are on some of the Mazowe kopjes.  Perhaps the drainage is goo good for their liking.  But a mass of other species, growing happily and well, included the 'duiker' or 'kudu' berry, Pseudolachnostylis maprouneifolia, with lots of fruit on some of the trees, Peltophorum africanum, the Rhodesian wattle, Diospyros kirkii, Vitex payos, the chocolate berry, Garcinia huillensis, Erythrina latissima and E. abyssinica, three species of Strychnos, S. spinosa, S. innocua and S. madagascariensis, two of Ximenia, X. caffra and X. americana, the snake bean, Swartzia madagascariensis, the rubber tree, Diplorhynchus condylocarpon, three Terminalias, T. stenostachya, T. sericea and T. mollis, and a host of others.  The final count was 110, quite apart from a remarkable array of smaller plants including several species of Indigofera, Deliches, Aloes, vlei lilies and flame lilies, with some of the latter still in splendid flower.  Among these smaller species there were two in particular which seemed to interest Mr. Drummond from the viewpoint of plant distribution.  One was a Helichrysum and the other a plant, of the PERIPLOCACEAE family, called Raphionacme welwitschii.  This was found by Mrs. Masterson.
In the afternoon, while some of us ascended a gradient of 1 in 2 to look at the lower slopes near at hand, others accompanied Miss Fenwick to see her herb garden which they found most enlightening.  Few, I think, expected to see an enterprise of quite such size and scope.
To Mr. and Mrs. Fenwick and Miss Wray Fenwick go our sincere thanks for a memorable day.  We regretted only that Mrs. Fenwick was unable to meet the party.  The warmth of her welcome during the 'recce' was greatly appreciated.  Without Charles and Wray we would have roamed the kopjes like a band of wandering minstrels.  With them as our guides we were able to set off with some purpose, and to do a circuit of wide contrasts.
We were glad to meet, also, close neighbours of the Fenwick's and other visitors from the area, and it was good to be joined by Mr. Arkell, a member whom we have not had the pleasure of seeing for some time.  I must again record what a boon it is to have with us Mr. Robert Drummond when he can manage to join us, and, of course, our old and steadfast friend and supporter, Mr. Trevor Gordon.
– Dick Petheram
NOTES FROM THE SOCIETIES Rhodesia Science News 8, No. 4, April 1974
Going through some old Science News journals on a completely unrelated mission, I came across this short article by W. J. Ascough who, at the time, was Chairman of the Tree Society of Rhodesia.  I like to think that the aims and objectives of the Society and the thoughts and feelings of its members have not changed too much in the last 44 years, which says so much for those who laid down the outline of the Society 58 years ago.  May we go from strength to strength and inspire younger members to carry on the flag.
W.J. Ascough says: "With the end of the year in sight, a member of the Tree Society has written in to tell us of his feelings:
"During the past year, my wife and I have made strenuous efforts to master a few of the names under which such trees as the monkey orange and lucky bean tree are camouflaged by the botanists.
We have found the process both stimulating and frustrating.  We simply do not believe some of the names, perhaps, I must confess, because we cannot pronounce them, like Steganotaenia araliacea, the Carrot Tree.  Some do not appear as friendly as they should be, like Bequaertiodendron magalismontanum, and we cannot look a duiker in the eye anymore because of Pseudolachnostylis maprouneifolia.
Two other aspects of the Society's activities worry us a little.  One is that we are even expected to recognise trees when there are no monkey oranges or lucky beans festooning the branches.  The other is the behavior of members.  It does not seem quite proper that, when a tree is not only fruitless and flowerless, but utterly leafless and obviously seeking a quiet spell of anonymity, members probe their bark, analyze their shape, colour and texture until their identify is revealed.
Then, when there are leaves, other difficulties arise, if one is not strong minded.  It is, for example, reassuring to learn from the reference books, that if the leaves are alternate and widest somewhere about the middle, the tree is almost bound to be either a mahobohobo or a fig.  It could just conceivably be one of a hundred others, but members should be warned not to allow their confidence to be undermined by trifling exceptions.
During the year, instead of making jam from the "fruit" of a fig, my wife succeeded in producing an edible confection from the flowers of a Ficus capensis.  This was heartening, as well as filling.
There were picnics and bus rides, caves and bushman paintings.  All in all, we have enjoyed our 'tree rambles' immensely.  We would like to thank the organisers for a varied and interesting programme, and for patiently answering all our questions, especially those concerning the trees we saw the month before!"
These thoughts will also echo the feelings of other members.  The Tree Society of Rhodesia is peculiar in that while it is essentially a natural history or 'hobby' society, it is concerned with subjects that are in themselves technically complex.
However, the enjoyment and satisfaction that members gain from their involvement with indigenous trees and a variety of associated subjects such as ecology, resource conservation, bushman paintings and aerial photography is adequate recompense for battling with the 'botanist's camouflage'.
This Society is also possibly the only voluntary 'natural history' society which concerns itself with the provision of public facilities for the benefit of people generally and not just its own members.  The Society caters for people of all ages, all walks of life and for a wide field of interests associated with the veld and our environment."
– W.J. Ascough
As situations change around us in Zimbabwe, I think we still concern ourselves with the provision of public facilities for the benefit of people generally and not just for our own members. What comes to mind is our efforts at the labeling of trees in the various educational environments of National Botanic Garden, Mukuvisi Woodlands, Haka Game Park, Lasting  Impressions at Kadoma, Ewanrigg National Garden, Greenwood Park, and Dombombira at Ruwa.  All this is being done to make walking in the bush or in these various parks more enjoyable for the public, starting with the very young who love their "tree" lessons at the Mukuvisi.  They love to get their minds around the longest name – which is the Duiker berry.  Our Chairman makes tree lessons huge fun and I am sure this makes lasting impressions on the kids.
The Society also continues to play an important role at the National Botanic Garden and at Ewanrigg with its various commitments, which provides facilities for the public.
Long live the Tree Society of Zimbabwe.
– Mary Lovemore
TONY ALEGRIA CHAIRMAN